Criminal Justice
By the numbers: Criminal justice in Oklahoma
August 1, 2019
Kaitlyn Finley
Incarceration rates and crime rates
Oklahoma has the highest incarceration rate in the nation, according to a 2018 study by the Prison Policy Initiative (PPI). These data include offenders housed in state and federal corrections facilities, juveniles held in juvenile residential facilities, people detained for immigration offenses, and those committed to psychiatric hospitals.
If one only includes those housed in state and federal corrections, Oklahoma has the 2nd highest incarceration rate after Louisiana according to the latest data compiled by the U.S. Bureau of Justice Statistics (BJS). The BJS report, released in April of this year, analyzed state prison populations as of 2017.
Since 1980, Oklahoma's incarceration rate has risen dramatically, as shown by the chart below. The United States' incarceration rate has declined since 2008.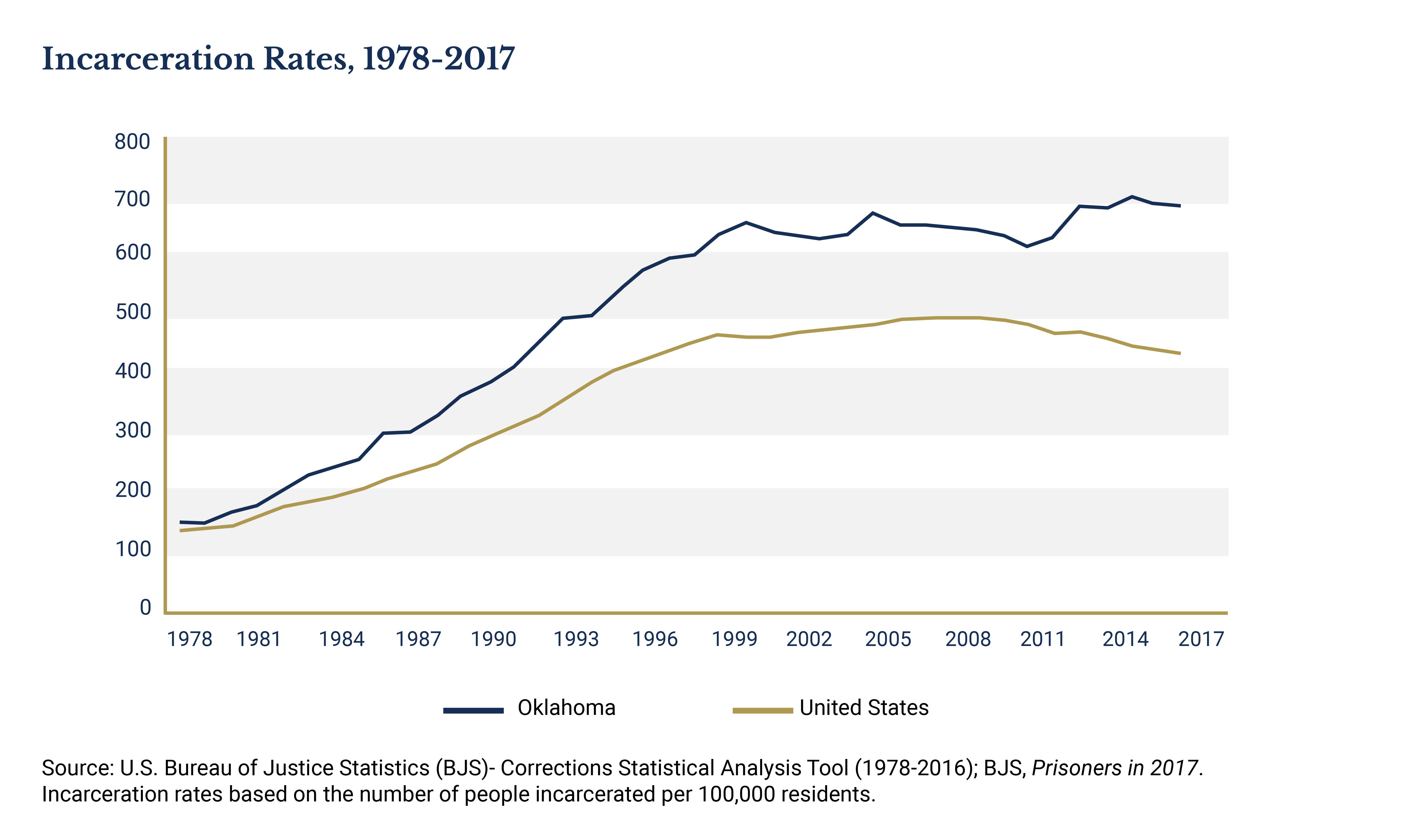 Oklahoma's female incarceration rate has increased even more rapidly over the past few decades.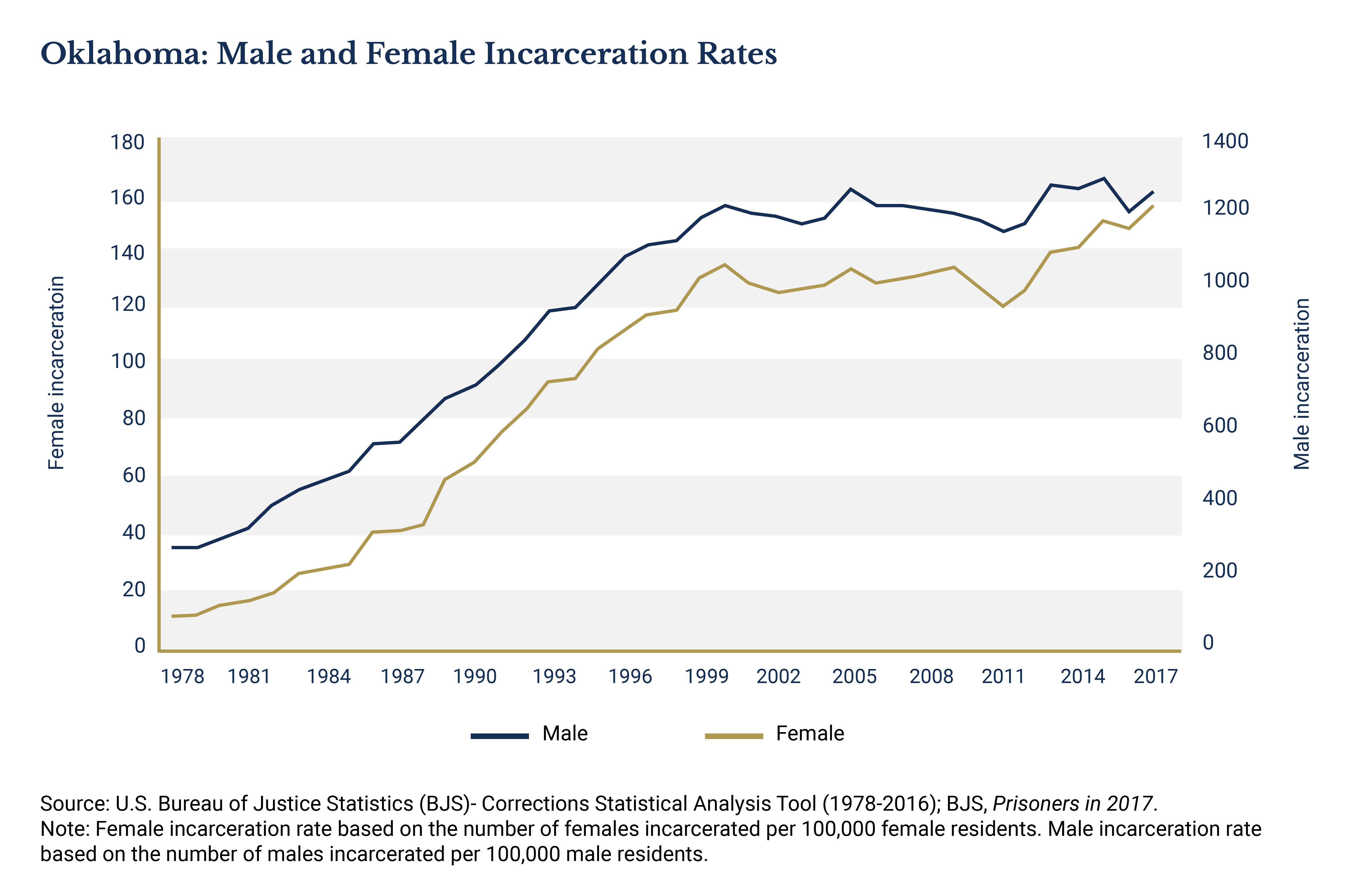 While Oklahoma's violent crime and property crime rates have declined since 1995, Oklahoma's incarceration rate has increased by 28 percent during that time period.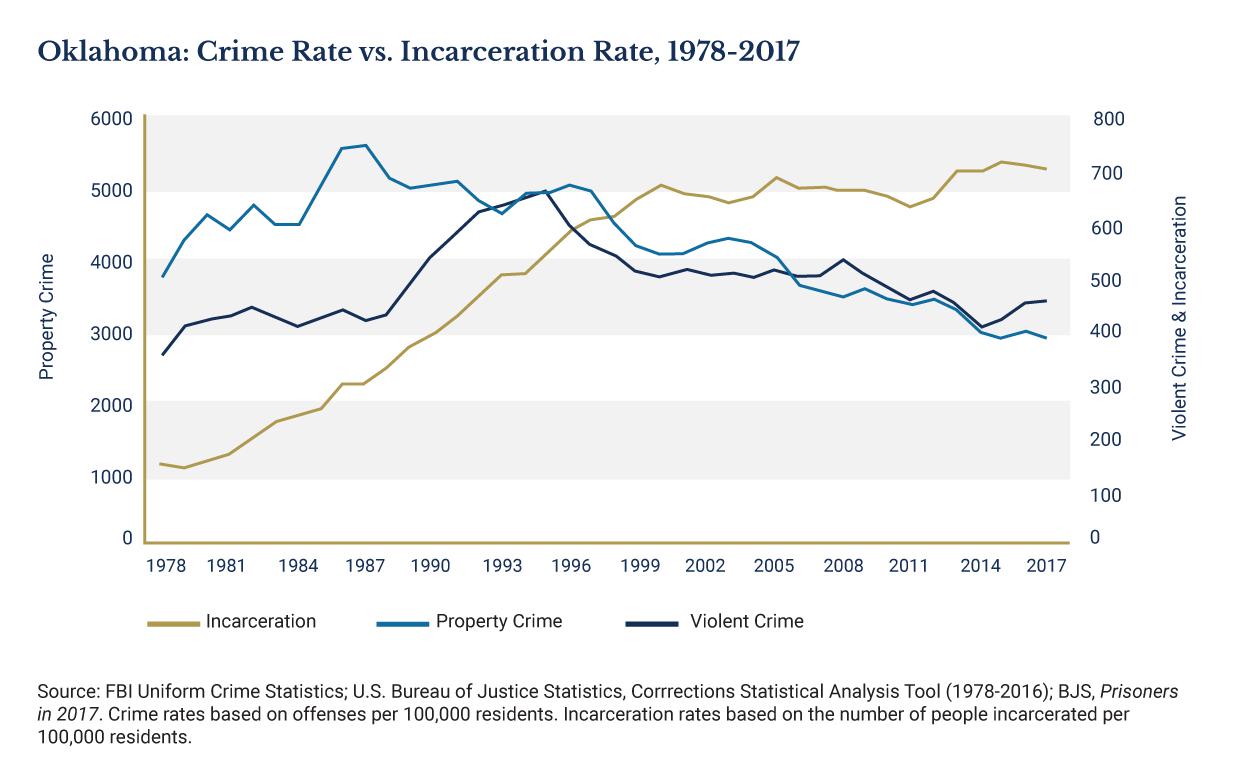 Drug crimes

Oklahoma's drug arrest rate and total number of drug arrests have increased considerably over the past 40 years, hitting their peak in 2003 as shown by the chart below.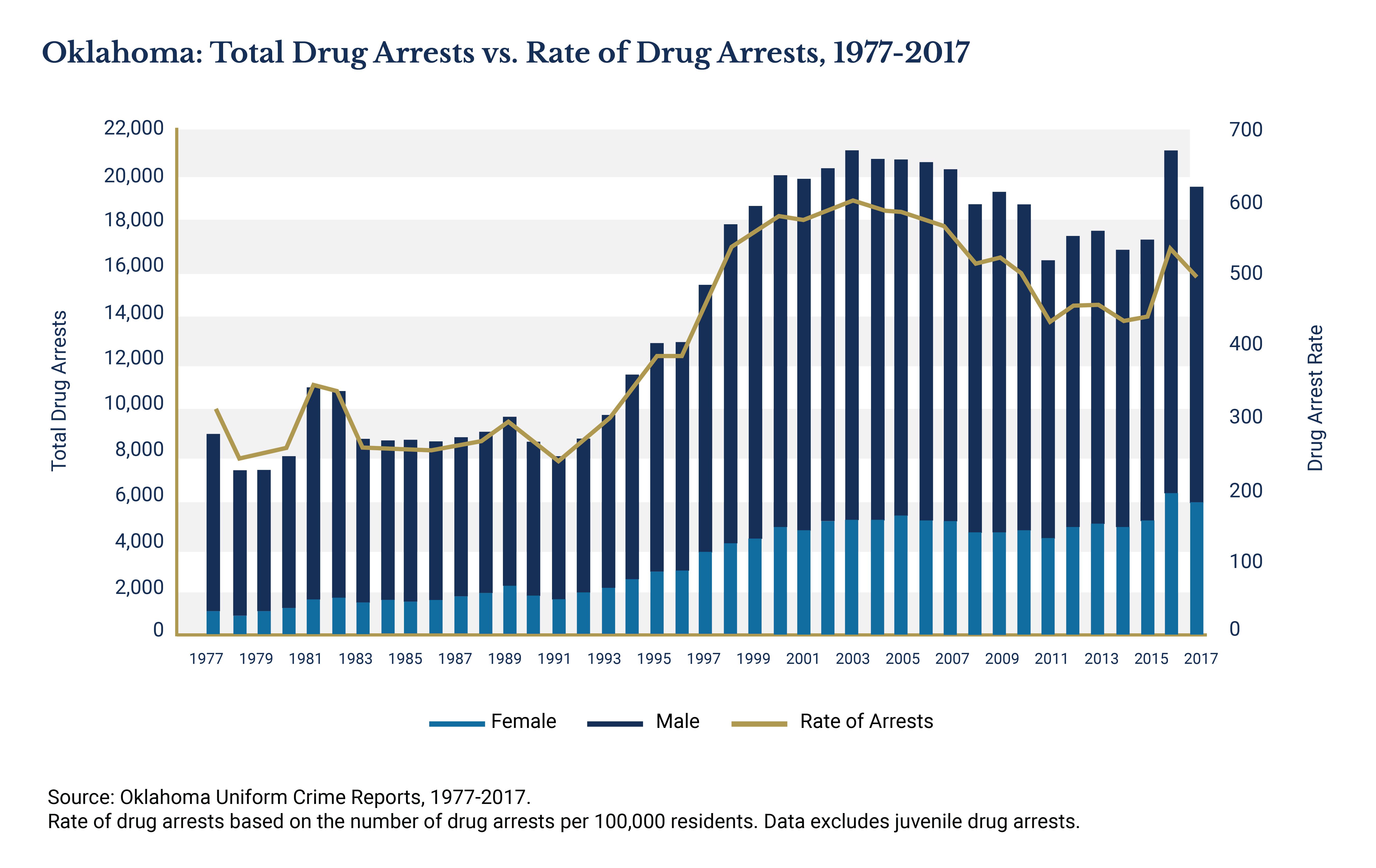 Female drug arrests have continued to rise steadily over the past few decades, increasing from 944 in 1977 to more than 5,700 arrests in 2017.
Oklahoma's incarcerated population
Oklahoma had 43,430 residents who were incarcerated as of 2018. Below is a breakdown of where they reside.
State prisons: 27,000
Local jails: 13,000
Federal prisons: 2,700
Juvenile Centers, Indian Country, and Involuntary Commitment: 730
Costs of incarceration
Oklahoma Department of Corrections (DOC) expenditures totaled $602 million in 2017, a 122 percent increase from 1987 ($272 million).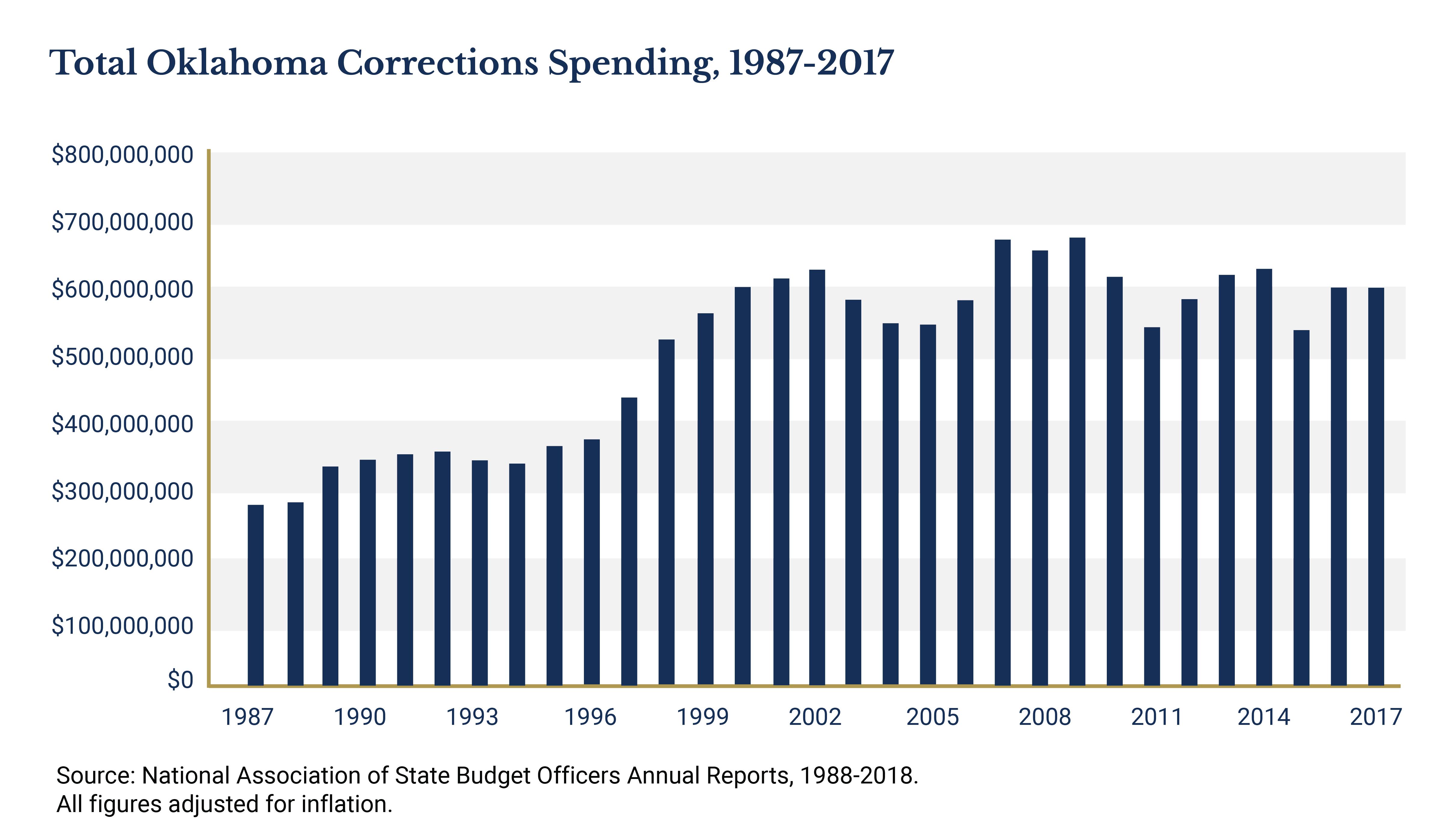 According to the 2018 Oklahoma Comprehensive Annual Financial Report, it costs Oklahoma taxpayers $44.45 and $94.37 per day for those in medium and maximum security facilities respectively.