Health Care
Experts consistently got it wrong on Medicaid expansion
December 21, 2018
Kaitlyn Finley
Costs for new government entitlement programs typically soar past experts' original estimates, leaving taxpayers with the exuberant tab. Experts move on to their next proposal, and their next actuarial report, and the cycle repeats.
Obamacare's Medicaid expansion was no exception.
States that extended Medicaid benefits to able-bodied working age adults under Obamacare, beginning in 2014, saw enrollment numbers skyrocket past initial projections. Original estimates from state agencies and other researchers grossly underestimated how many newly eligible adults would enroll in Medicaid.
Data compiled by the Foundation for Government Accountability (FGA) show state governments' initial projections for enrollment were exceeded by an astounding 110 percent. The first 24 states to expand Medicaid in 2014 and 2015, expected to enroll 5.45 million newly eligible adults in total. Instead, nearly 11.5 million signed up for Medicaid.
States were not alone in underestimating how many able-bodied adults would join Medicaid. The chart below from FGA shows projections from the Congressional Budget Office (CBO)—as well as independent research groups like the Kaiser Family Foundation, Urban Institute, and Lewin Group—were way off base. Simply put, everyone got it wrong.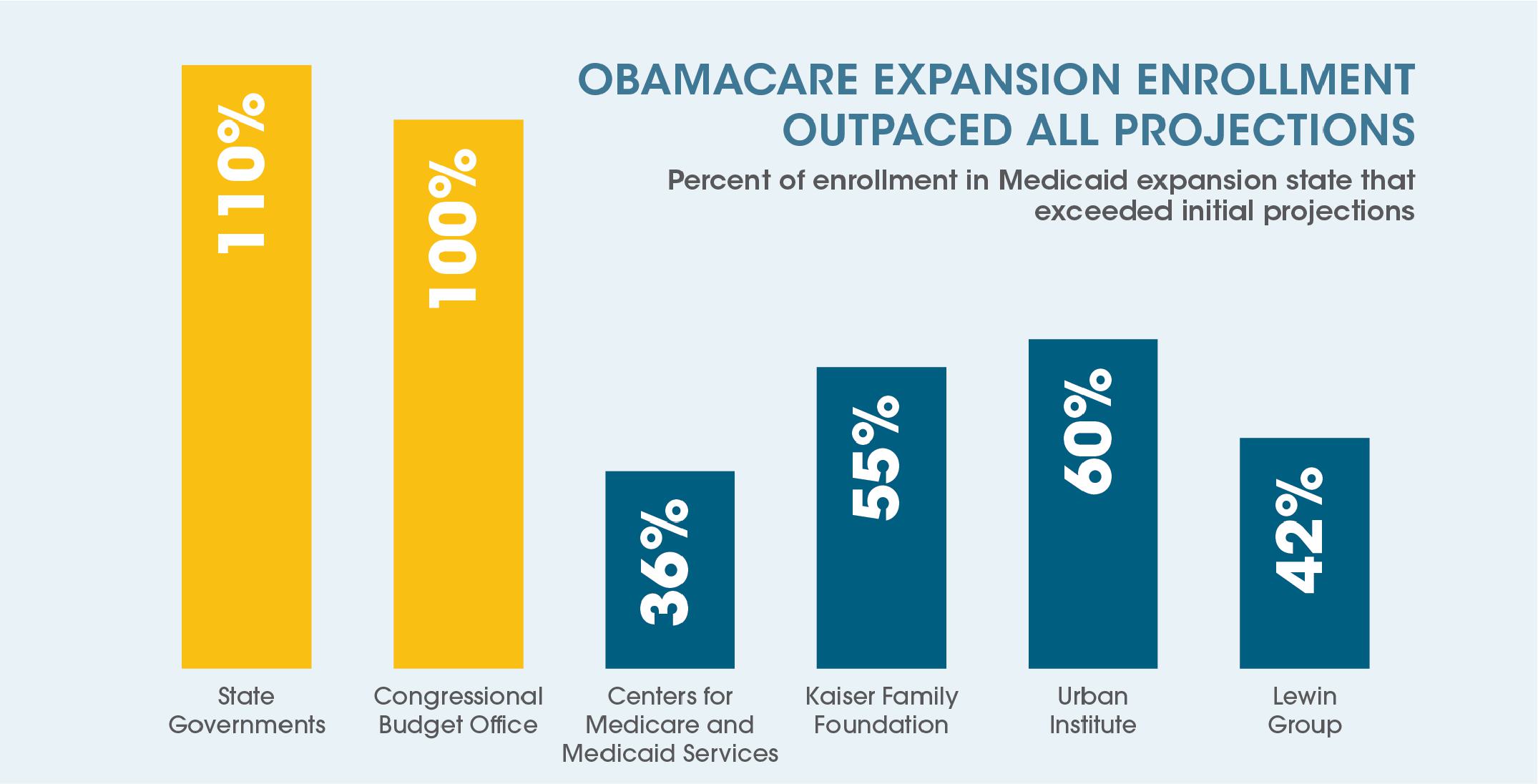 Chart by the Foundation for Government Accountability
States were not only overwhelmed by the number of adults who enrolled, they were also unprepared for the costs from the additional dependents. In a report released earlier this year, FGA concluded "every state with available spending projections and actual cost data reveals that taxpayers have spent roughly 157 percent more on Obamacare expansion than state officials initially predicted."
In 2013, the Oklahoma Health Care Authority commissioned a report by an outside consulting group, Leavitt Partners, to estimate the costs associated with Oklahoma expanding its Medicaid program. The report estimated 628,000 Oklahomans would be eligible for government-funded health care under the Leavitt Partners' plan to restructure and expand Medicaid (see "Alternatives Report," pg. 57).
Since its initial release five years ago, the Leavitt Partners report has not been updated even as similar reports in other states have been discredited by actual results.
So far 14 states, including Oklahoma, have rejected Medicaid expansion. Oklahoma's Medicaid program, SoonerCare, is already one of Oklahoma's most costly programs, receiving 15 percent of all state appropriated dollars in 2017 ($1.029 billion). Oklahoma does not have the financial resources to divert funding from the truly needy who are already on Medicaid—low-income pregnant women, children, and the disabled—and redistribute that money to hundreds of thousands of able-bodied adults.
Oklahoma would be wise to take into account previous faulty projections from the "experts" and reject Medicaid expansion to protect Oklahoma from the unforeseen costs faced by so many other states.