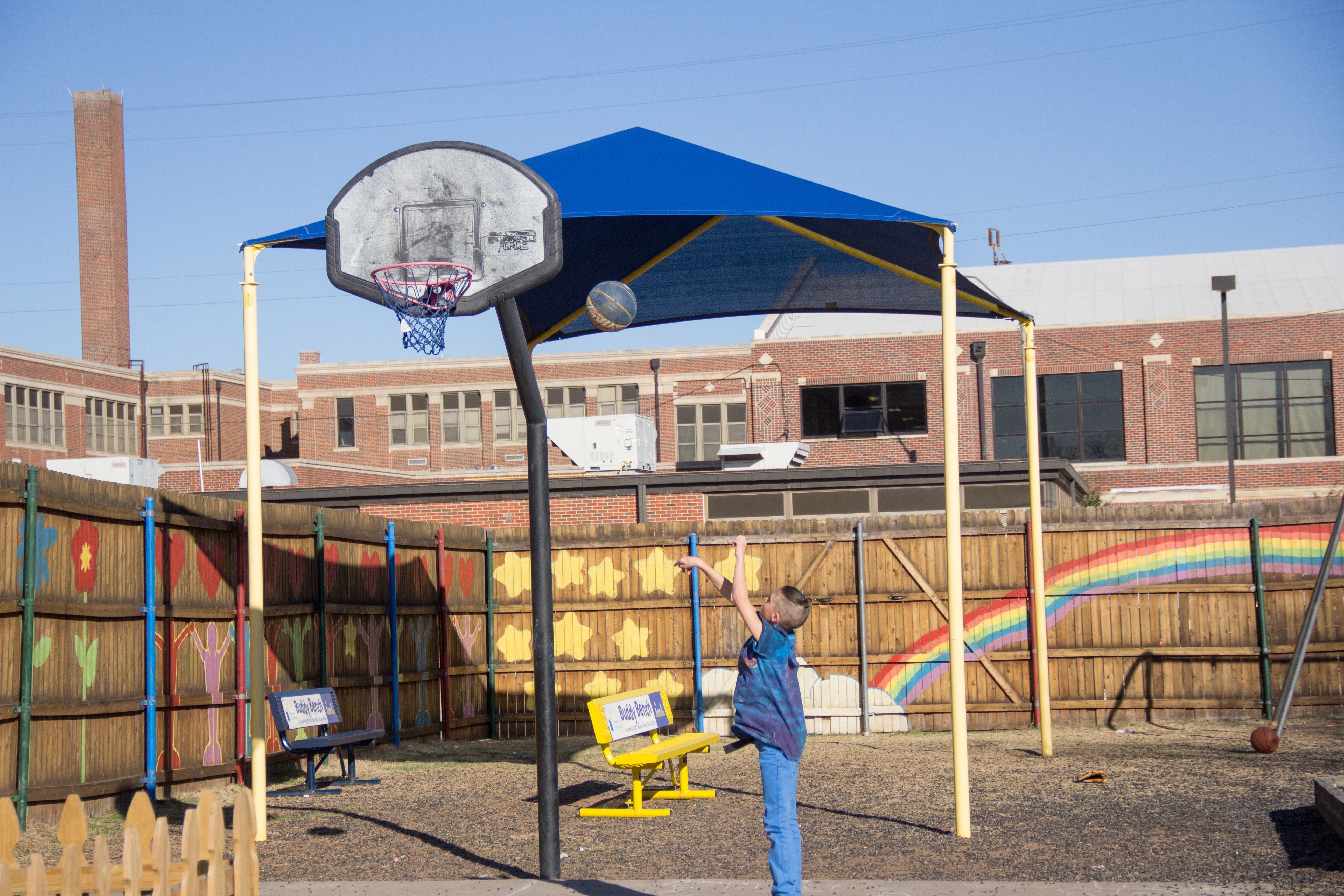 Education
Staci Elder Hensley | April 27, 2018
From homeless to hopeful
Staci Elder Hensley
This article was published in OCPA's Perspective magazine View Issue
Eleven-year-old Tristen Clapper is what you'd call a typical kid—bubbling over with enthusiasm about basketball, golf, art class, and the many friends he's made in his new school.
It's a dramatic change from last September, when Tristen and his mother, Crystal Henry, were living in a local homeless shelter and facing eviction. They had little hope and few options.
That's when Positive Tomorrows came into their lives. As the nation's only elementary school created specifically for homeless children, the Oklahoma City-based nonprofit offers approximately 135 kids a stable, supportive educational environment, free of the stigma they often face in public schools.
The goal of Positive Tomorrows is to break the cycle of homelessness and poverty through a three-pronged approach. The first step is to remove the barriers that interrupt or prevent education of homeless students. The second is to provide a quality education experience that meets national standards for excellence. The third is tangible assistance for parents and caregivers.
Classes at Positive Tomorrows range from pre-K through fifth grade and are deliberately kept small, with a maximum of 16 students (10 for pre-K). Each class has both a teacher and assistant teacher, so students receive a great deal of individualized attention. This is important, since homeless children are often behind academically, due to missing a significant amount of school or for a variety of other reasons, said development officer Rachel Durham.
The school offers a safe, secure, and encouraging environment where all the children come from similar circumstances, so none are singled out, embarrassed, or shunned. In addition to their education the students are provided with basic necessities—starting with meals—which enable them to focus their complete attention on learning. This assistance includes transportation to and from school, clothes, shoes, school and art supplies, sports equipment, and so forth. They also receive regular health screenings, plus the "extras" that enrich the school experience, such as field trips, guest speakers, and special camps during summer and winter breaks. Many students also have volunteer adult mentors, similar to the Big Brothers/Big Sisters program, who provide an additional level of support and act as role models.
"It's a calm place. It's a happy place," Durham said. "The students love being here."
Tristen and Henry agree wholeheartedly.
"Being able to be with other kids who are homeless is just one less difference he has to deal with," Henry said. "This is the first time he has ever been happy in school. He loves coming here, his self-esteem has hugely improved, and he doesn't think he's a bad kid anymore."
Tristen is equally forthright. "Out of all the schools I've been to, this one is the best," he said, with a huge grin. And when asked who his friends are, the response is quick and emphatic. "Basically the whole school!"
The third spoke in the wheel of the Positive Tomorrows mission is helping parents and families access the tools and resources they need to achieve stability and break the cycle of homelessness and poverty. While Tristen acclimated to his new learning environment, for instance, the family services staff also helped Henry, a recovering addict, to find a job and an apartment within a "sober" living community that provides her with accountability and additional support. She and her son have also received counseling that is enabling them to strengthen their parent-child relationship.
"We don't do full social services, but we help smooth the bumps or point them to a door they can go through and get help," said Kelly Berger, director of family support services. Arguably the biggest obstacle, he said, is that people frequently aren't aware of available public and private assistance until after they're already homeless, making it harder to rebound. At Positive Tomorrows, staff guide students and parents to these resources, with the goal of proving permanent shelter quickly.
"One of the things that's very unique about us is that everyone from the van driver to the foundation president is absolutely committed to serving these families," Berger said. "We also have a huge number of volunteers. No one is here simply to collect a paycheck."
"Most of our families (77 percent) who started with us while living in a shelter won't be there by the end of the year; instead they'll be in some sort of stable housing," Durham added. "We're very proud of that."
Positive Tomorrows staff also go above and beyond for children who have to be put on the school's waiting list.
"We do have to turn away a lot of kids because of our limited space," Durham said. "But if they can't get in here, we help them enroll in another school." For homeless children, simply enrolling in a regular school can be difficult to impossible, she noted, since most schools require proof of an address before admission.
Founded in 1989, the idea for Positive Tomorrows came from an Oklahoma City Mayor's Task Force on Homelessness, and the groundbreaking school is the first of its kind in the nation. Today there are still only two similar programs in the entire United States, neither of which is as comprehensive. However, Durham said, in the wake of national media attention from NPR and NBC about Positive Tomorrows' mission, administrators with school districts across the country now visit regularly as research for developing their own programs.
"One of our goals is to be a national model," Durham said. "We are far from the only state experiencing homelessness." (Oklahoma is currently ranked seventh in the nation in the number of homeless people, with approximately 7,500 homeless children in the Oklahoma City metro area alone.)
In addition to its teachers and administrators, Positive Tomorrows has a dedicated development team who are fundraising for the school every day. With an ever-escalating waiting list and very cramped quarters, a capital campaign is in full force to raise $10.2 million to construct a new building. (More than $8 million has been raised to date.) Completed, it will double the student capacity, plus add a gymnasium. Long-term, Durham said, the hope is to eventually construct a middle school facility.
The school's current $1.7 million annual budget is funded entirely from private donations, both private and corporate. A huge source of financial support also is provided by the Opportunity Scholarship Fund, an Oklahoma scholarship-granting organization serving low-income students.
"This fund provides much-needed operational dollars that help to cover the cost of tuition for our students," said Positive Tomorrows president and principal Susan Agel. "This year, as we've been working on the capital campaign to raise funds for a new building, the Opportunity Scholarship Fund has helped us to fill in the gaps as we prepare to grow. As a private, nonprofit, and tuition-free elementary school, these dollars mean that many more homeless students in Oklahoma City can receive a trauma-informed, differentiated education, while their parents get the support they need to create a better life."
Tangible support has also come from an unexpected source—NBA superstar Kevin Durant. During his tenure with the Oklahoma City Thunder, Durant donated $100,000 to the school. The funds enabled Positive Tomorrows to add a cafeteria, modify a classroom for special education students, and decorate another in a Thunder motif. Even though Durant has left the state, his support is still ongoing, Durham said.
Along with an education, the greatest gift the school gives to its students is hope. They learn that they are not victims, that they have the power to chart their own path, and that they can dream dreams and make those dreams come true. That homelessness and hunger can become an unpleasant memory, not an inevitable future.
Henry and Tristen are only one of many families who have become shining success stories. Thanks to the school's dedicated staff, in just a few short months they have turned their lives around and for the first time in years are excited about the future.
"You have to want to get better," Henry said. "When you're homeless you don't know how to get out of it. Positive Tomorrows has helped guide me to make good choices as a parent and as a person. I've learned that we're not our past, and we're not our mistakes."
Staci Elder Hensley
Independent Journalist
Former newspaper reporter Staci Elder Hensley is a freelance writer, editor, and columnist. A graduate of the University of Oklahoma, she is a former news coordinator for both the Oklahoma Tourism and Recreation Department and the University of Oklahoma Health Sciences Center. She served as a regular columnist for The Daily Oklahoman and Distinctly Oklahoma magazine, and her credits also include articles produced for multiple state and national publications, including The Journal Record, The New York Times, The Dallas Morning News, and others.