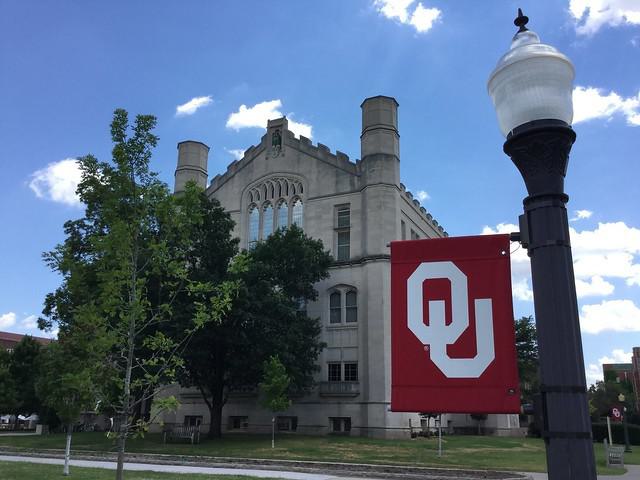 Higher Education
Mike Brake | February 21, 2020
OU hosts former Communist Party candidate and accused terrorist
Mike Brake
The University of Oklahoma Black Student Association is hosting one of America's most notorious left-wing activists today.
Angela Davis, one of the most prominent radicals of the 1960s, is the keynote speaker for the Big XII Conference on Black Student Government being held this weekend at OU. The conference is titled "Generation Us: Unifying Blackness Through Social Change."
A flyer for the event bills Davis as "feminist, writer, activist, scholar, educator, author and professor and Black Panther founder-legend." In a statement, the OU office of communications says Davis is "a social justice educator, activist, and advocate, shining a light on issues related to incarceration, racial discrimination, and poverty."
"Speaking as a former FBI agent, it is unsettling to me that they did not have a list of more suitable speakers to invite besides her." —Frank Keating
It does not mention that she also was an FBI top-10 fugitive, homicide suspect, and communist.
Davis may be relatively unknown to younger generations, but she was a notorious figure in the radical, often violent, political left between the late 1960s and early 1980s.
In 1970 she purchased guns and provided them to the brother of her imprisoned lover, who took a judge, a prosecutor, and three jurors hostage in a Marin County, California, courtroom. The judge and three others died in the ensuing shootout. Prosecutors named Davis a co-defendant in the ensuing criminal case. She fled and was soon placed on the FBI's 10 Most Wanted list.
Ronald Radosh, professor emeritus of history at City University of New York, wrote about the incident last year.
She was tried for purchasing guns for a courtroom raid carried out by her lover George Jackson's brother, Jonathan, whose use of these guns in a shootout (while attempting to flee) killed one of the four people he had taken hostage, a man named Judge Harold Haley. The purchase of these guns was easily traced to Davis who, rather than surrendering, fled to avoid being captured. She was eventually found at a motel on 8th Avenue in New York City, where she was taken into custody, having been charged by superior court judge Peter Smith with "aggravated kidnapping and first-degree murder."
Rather than working for civil rights in the manner of Martin Luther King Jr., James Farmer, or A. Philip Randolph, Davis was a leader of the American Communist Party, and a member of the violent and armed Marxist group, the Black Panther Party. After her arrest, the international Communist movement declared her a martyr and Moscow orchestrated an international group of gullible Europeans who proclaimed her innocence and demanded her freedom. In Communist East Germany, school children were told to write postcards to her expressing their support and solidarity.
At her trial, the jury surprisingly found her innocent even though 20 witnesses had testified against her. Careful investigation later revealed how compromised the jury was. One of the jurors, Mary Timothy, would go on to have an affair with Communist Party member (and head of the official Committee to Free Angela) Bettina Aptheker. Immediately after Davis was acquitted, another jury member faced the reporters and TV networks and gave them the clenched-fist salute regularly used by revolutionaries. That juror, Ralph Delange, explained "I did it because I wanted to show I felt an identity with the oppressed people in the crowd … and to express my sympathy with their struggle." ...
A hardline Communist, Davis supported the Soviet invasion of Czechoslovakia in 1968 and relished being a guest of Fidel Castro in Cuba—where she went immediately following her acquittal. But her greatest love was for the Soviet Union and the Eastern European countries it ruled over. In 1979, Davis received the Lenin Peace Prize (once known as the Stalin Peace Prize). Russian writer Vitaly Korotich, who met her in Moscow, noted later that Davis was "a useful tool for the Brezhnev government, used to bolster Communist ideals and speak out against the West during the Cold War."
When the Soviets moved into Czechoslovakia in 1968, Davis was quoted as saying that Czechs imprisoned there when they protested communist rule "deserve what they get. Let them remain in prison." She also described Soviet prisoners in the gulag as "Zionist fascists and opponents of socialism."
Much of her more recent advocacy centers on abolishing all American prisons, claiming that the murderers, rapists, robbers, and others held there are "political prisoners."
In 1980 and 1984, Davis ran as the vice-presidential candidate on the ticket of the Communist Party USA. In 2014 she sent greetings to the Communist Party USA national convention in Chicago:
I wish you much success as you collectively engage with a range of issues related to the current economic and environmental crises and to the struggle for a democracy extricated from the exploitative and racist context of capitalism. As the system of capitalism has produced an ever-increasing and thus insatiable need for profits, this process is leading to the rapid deterioration of the very conditions of life on the planet. Our movements must reflect a deep understanding of the idea that capitalism, if allowed to move along its logical trajectory, may ultimately lead to global death. The alternative trajectory—the way of life—is socialism. Thank you for keeping the ideas and ideals of socialism alive. It is our only hope for the future.
For a devoted communist and socialist, Davis has some oddly capitalistic tendencies. Her Facebook page advertises her books for sale, and a quick internet search shows that she is associated with at least a half dozen speakers bureaus, where she demands top dollar for appearances.
The Chartwell Speakers agency responded to an email inquiry that "her speaking fee is typically $25,000 plus first-class travel expenses."
The APB agency lists her price as $30,000 and expenses while Speakers Booking Agency quotes prices from $30,000 to $50,000. One site listed a half dozen Davis appearances, mostly on campuses, between March and May, which would suggest that she enjoys at least a high six-figure income.

In a statement, OU said "Davis's speaking fee is covered by registration fees charged for conference attendance."
OU spokeswoman Kesha Keith said no university funds were expended on student registration at the conference. "The University did not fund student attendance," she said. "Attendees must pay registration fees to attend. Our students who are attending from BSA paid for a portion and fundraised the rest of their fees."
Although she was only officially associated with the Black Panther organization for less than a year, Davis remained an outspoken supporter of their actions. Law enforcement websites list 35 American police officers killed by Black Panthers or members of affiliated groups from 1967 through the early years of this century.
Davis has never disavowed political violence. Letters she sent to her lover in prison before the courtroom murders expressed sympathy with his violent plans. In a documentary filmed not long after her murder trial, when asked about revolutionary violence, she shrugged and said "you have to expect that there are going to be some explosions." She later voiced support for rioters in Ferguson, Missouri, protesting a police shooting.
OU regent and former Governor Frank Keating said that "speaking as a former FBI agent, it is unsettling to me that they did not have a list of more suitable speakers to invite besides her—hopefully, someone who has contributed more to society."
Mike Brake is a journalist and writer who recently authored a centennial history of Putnam City Schools. A former reporter at The Oklahoman (his coverage of the moon landing earned a front-page byline on July 21, 1969), he served as chief writer for Gov. Frank Keating and for Lt. Gov. and Congresswoman Mary Fallin. He has also served as an adjunct instructor at OSU-OKC, and currently serves as public information officer for Oklahoma County Commissioner Brian Maughan.