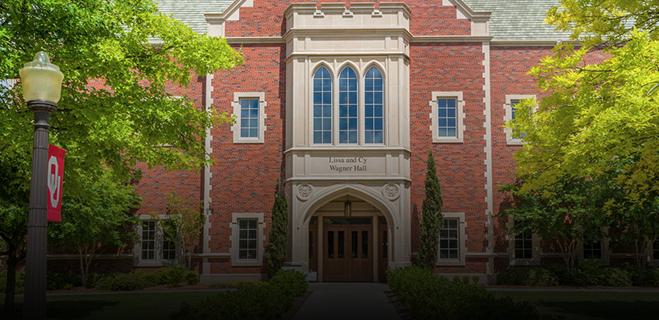 Higher Education
Curtis Shelton | July 18, 2018
Putting the brakes on tuition hikes at OU?
Curtis Shelton
The University of Oklahoma's new president, Jim Gallogly, has made fiscal responsibility a top priority for the university. One example? Trimming the number of executives who report to him from 25 to 17. It is a radical move after years of administrative growth, but Gallogly characterized it as common sense: "It's obvious that we needed fewer of those organizational positions." Hopefully, this prioritization of fiscal responsibility may finally provide students and families with relief from constant tuition and fee hikes.
Since the year 2000, revenue from tuition and fees at OU has grown by 240%. Declining state appropriations are often cited as the reason for this increase, but while state dollars fell by $51 million, the University increased revenue from tuition and fees by $228 million. (All dollars adjusted for inflation.)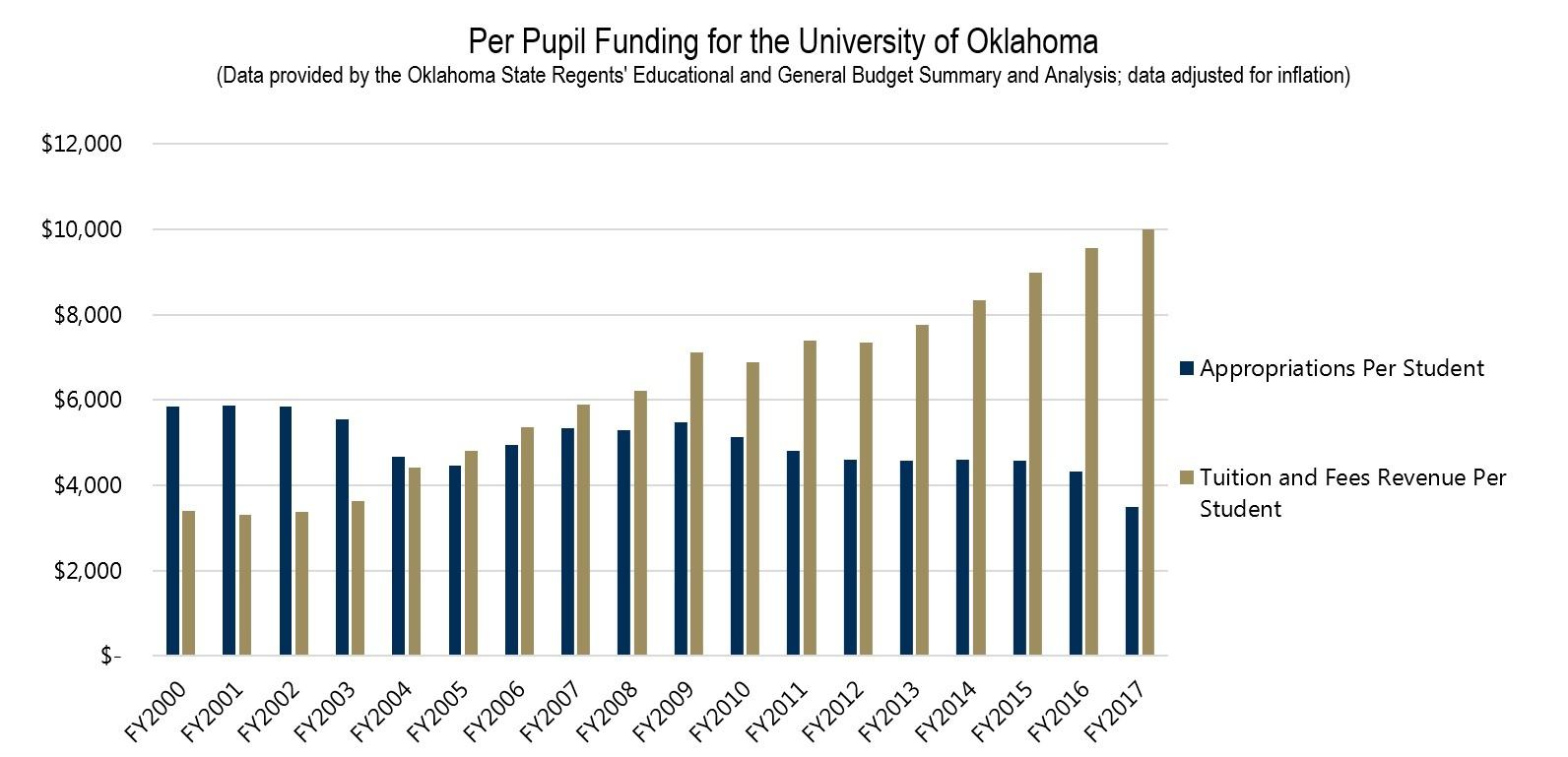 Over the same time period, OU's student population grew by 4,207. State appropriations per student decreased by $2,349, but the University increased its revenue per student from tuition and fees by $6,620. This brings the total per pupil funding for the University's primary budget to $16,137, a 50% increase since 2000. Overall, the University of Oklahoma's total primary budget has grown by $217 million over the last 17 years to $521 million.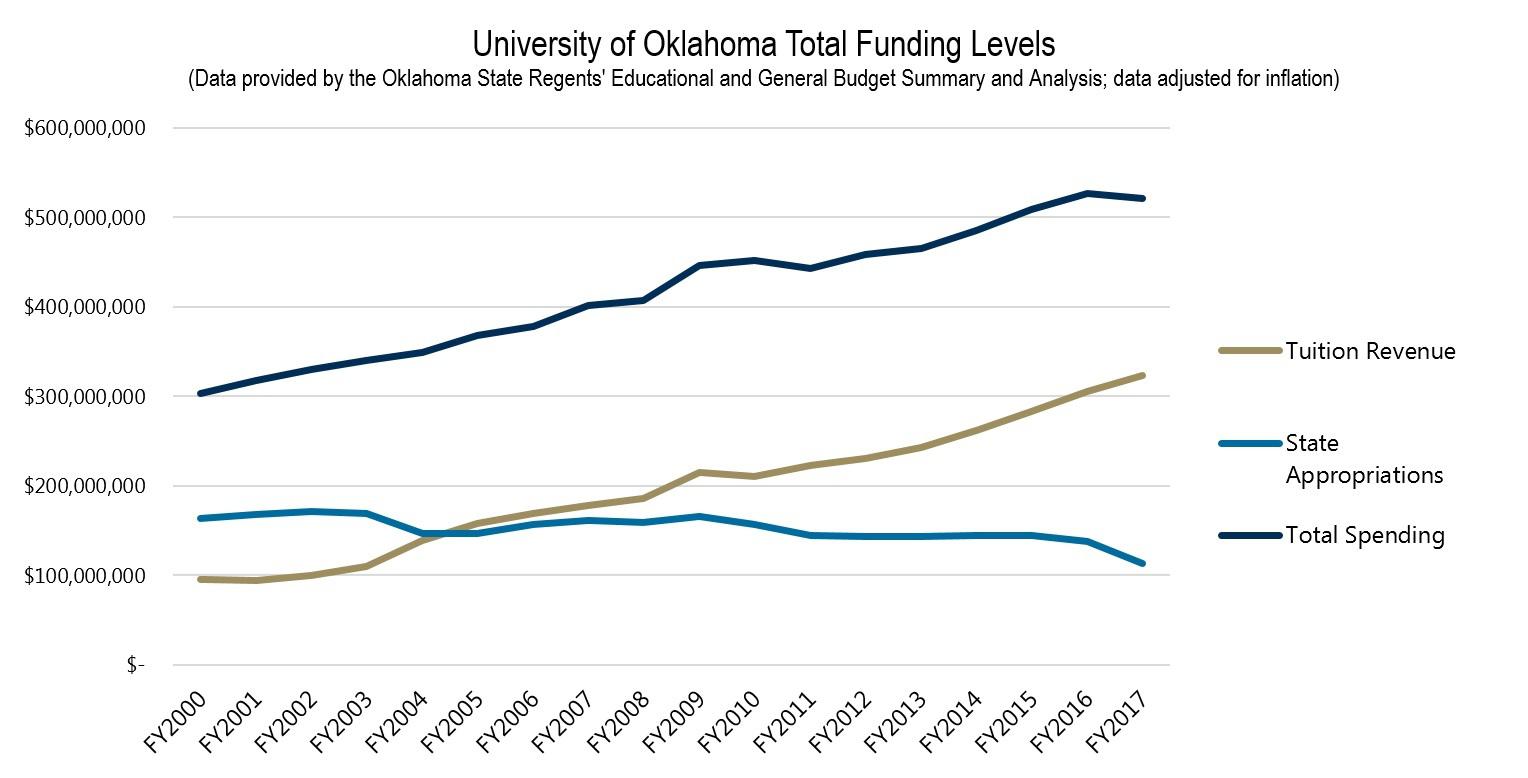 This $521 million is divided into eight categories. While spending has grown in all areas, some have seen much larger increases than others. For example, spending on operation and maintenance has increased 127%, or $37 million, while spending on research has grown by 30%, or $4.4 million, during the same time.

Sources:

https://data.bls.gov/cgi-bin/cpicalc.pl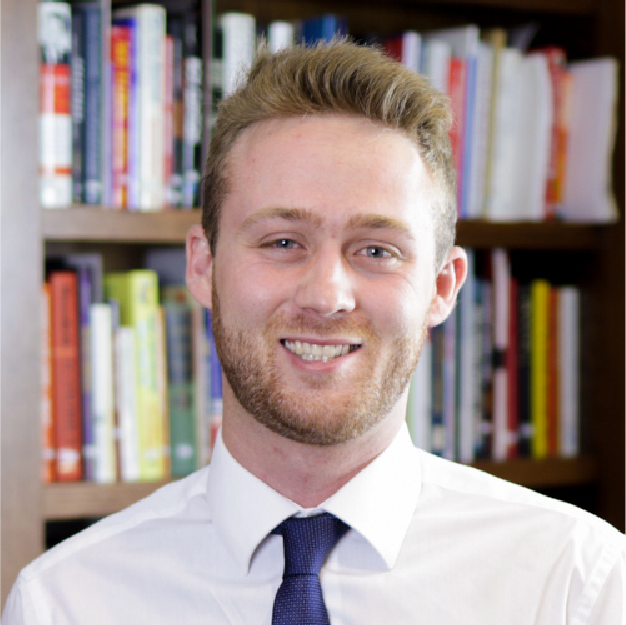 Curtis Shelton
Policy Research Fellow
Curtis Shelton currently serves as a policy research fellow for OCPA with a focus on fiscal policy. Curtis graduated Oklahoma State University in 2016 with a Bachelors of Arts in Finance. Previously, he served as a summer intern at OCPA and spent time as a staff accountant for Sutherland Global Services.