Economy
Cody Ray Milner | April 24, 2018
Rich states, poor states, and Oklahoma's business growth
Cody Ray Milner
The American Legislative Exchange Council (ALEC) last week released its 11th edition of Rich States, Poor States. The economic policy report examines the growth potential for each of the 50 states and ranks them accordingly. The study offers a forward-looking forecast based on a state's standing (equal-weighted average) in the 15 policy variables shown in the chart below. The chart, taken directly from the report, also shows how Oklahoma fares in each area.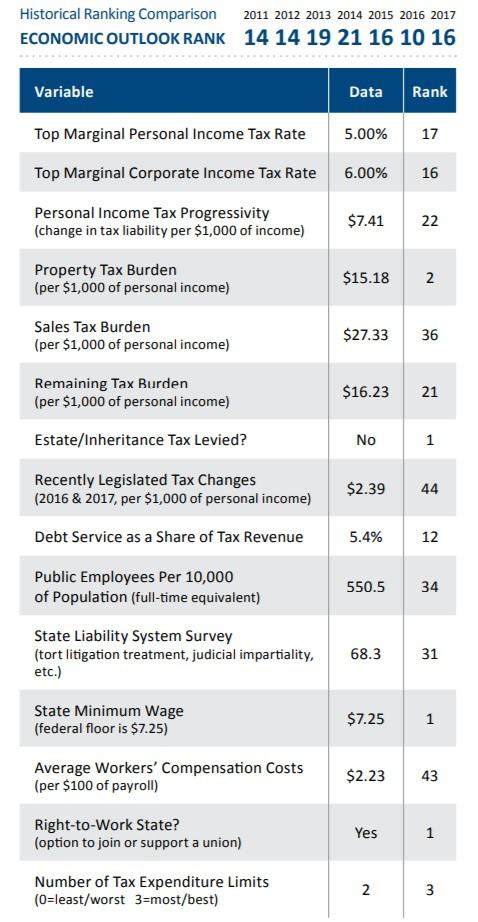 Oklahoma has a tradition of high rankings in this study. This year, Oklahoma comes in 16th in the Economic Outlook Rankings – well in the top half of states, but also significantly lower than its 10th place ranking in 2016. Oklahoma's run as a destination for entrepreneurs and workers fleeing more oppressive states is thanks to high marks in several categories.

Estate/Inheritance Tax – Oklahoma retains its (shared) rank of 1st in the nation by continuing to not levy taxes on families when someone dies. This makes Oklahoma, relative to states that do impose this tax, a friendlier place to live.
Right to Work – Ranked 1st in the nation here also, Oklahoma is among those states that protect workers' right to choose whether to participate in a union or not. As former Indiana governor Mitch Daniels noted, choosing to not be in a union effectively gives workers a 2-5% pay raise that they would otherwise forfeit to the union to spend on special interests and politics. Remaining a right to work state keeps dollars in the pockets of Oklahoma's workers.
Property Tax Burden – Oklahoma ranks 2nd in the nation for its very low property tax burden, estimated to be $15.18 per each $1,000 of personal income.
In several other policy areas, Oklahoma could do much better. Improvement in these areas could help diversify the economy, encourage businesses to form or relocate here, and spur job creation.
Public Employees per Capita – With 550.5 government employees for every 10,000 people, Oklahoma is 34th in the nation (a higher ranking would mean fewer government workers per person). This may shock people used to thinking of Oklahoma as a small-government state, but a history of political patronage has led to some sprawling bureaucracies. Conservative voters and legislators have had some success stopping tax increases, but not much reducing the size of government. This suggests that one way to increase pay for government workers is to employ fewer of them.
Corporate Income Tax Rate – Oklahoma does well nationally, but not regionally, with a 6.0% top marginal corporate income tax rate. This is the 16th lowest in the nation, but surrounding states are lower still. (Texas' 2.63% makes it 4th in the nation). Reducing this tax rate would increase the incentive for businesses to relocate to Oklahoma.
Legislative Tax Changes – Oklahoma gets an abysmal 44th for changes to the tax code for upcoming years. ALEC calculates that over the next two-year period, Oklahomans will be paying $2.39 more in taxes for every $1,000 income. And this was calculated before the tax increases of the special legislative session. Businesses seek predictability: stability is good, instability is bad.
This year's state legislative battles focused on public service departments and criminal justice reform, but the engine of every economy is small business growth and job creation. A feature of the federal system is that states may serve as laboratories for policy experiments. Oklahomans can have plenty of opportunities to enact pro-growth tax and fiscal policies, and continue to make our state a better place to live, work, and raise a family.
Sources:
2018 Rich States, Poor States Report
Cody Ray Milner
Policy Associate
Cody is an undergraduate student at Oklahoma Christian University, majoring in Political Science and American History and minoring in International Studies and Economics. Cody has previously worked for Oklahoma Governor Mary Fallin, U.S. Senator James Lankford, and Americans For Prosperity.