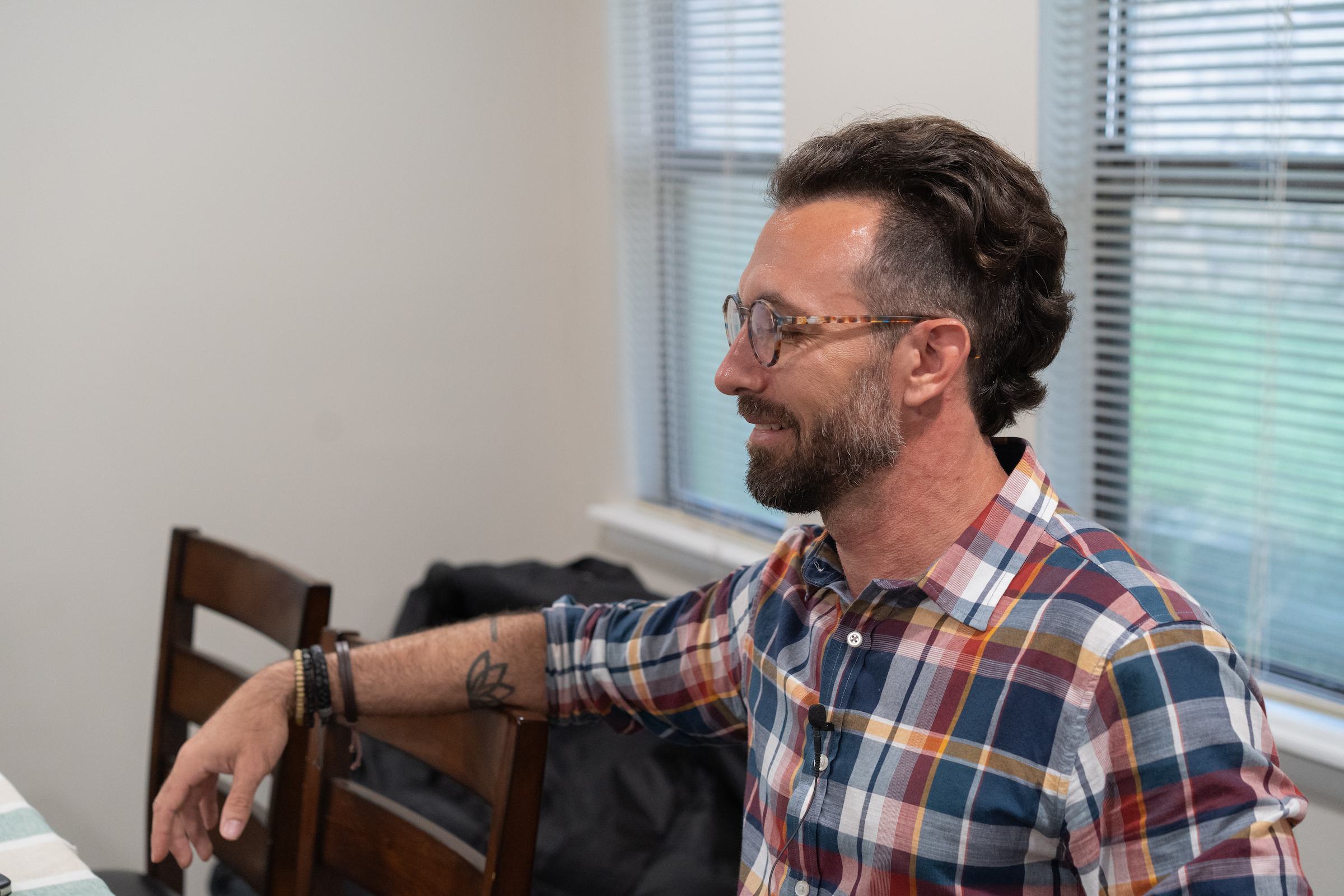 Criminal Justice , Culture & the Family
Ryan Haynie & Kaitlyn Finley | September 15, 2020
Sober living through community
Ryan Haynie & Kaitlyn Finley
Tucked away in south Tulsa, on a street where residential homes have mostly been converted to commercial businesses, sits Sangha (pronounced SAHN-guh, Sanskrit for "community"). Sangha is a sober-living house that typically houses around six men working to kick addiction.
Sangha's executive director is Marcus Abernathy, a Tulsa native who looks more like a yoga instructor than someone you'd find managing a sober-living facility. His unique experience blends a master's degree in psychology with a history of heroin addiction. After becoming sober in Arizona, Abernathy later returned to his hometown to open Sangha. We caught up with him in late July to discuss his approach to sober living, policy proposals, and the hardships of COVID-19 on those struggling through addiction.
Abernathy opened Sangha's doors on September 6, 2018, as a haven for those struggling with addiction. "It just made sense for me to take what I knew of recovery and try and turn that into some sort of treatment for substance use disorder," he says.
What makes Sangha different from other sober-living facilities? Abernathy believes part of their success is the holistic approach to sobriety. At Sangha, Abernathy explains, "We don't just focus on sobriety. We try to look at the whole person so everything from their mental health, to their physical health, to their financial literacy, their abilities in interviewing and creating resumes, and being of service to the community of Tulsa."
In addition to community-based treatment services, Sangha provides its residents a gym membership, arranges for discounted medical and dental services, and works to develop life skills for its residents. Unlike many sober-living facilities, the spacious Sangha house is furnished with new living-room and bedroom furniture that helps raise the standard of what the residents should expect for themselves. At the center of a house is a large wooden table where Abernathy encourages the residents to eat regular meals together.
Residents of Sangha are expected to be gainfully employed and pay rent, but Sangha's status as a nonprofit organization makes it easier to not put so much focus on the bottom line. "We reached out to a lot of the family foundations around here and figured out a way for us to be funded by the community so we didn't have to rely upon the residents paying rent," Abernathy says. Since opening the first house in 2018, Sangha has been able to grow their program and now offers apartments as an option for enrollees who have completed Sangha's house programming.
Recovery in the Age of COVID-19
Though the reaches of the pandemic are global, Abernathy is keen to emphasize the impact of COVID-19 on those going through recovery.
The darkest times of addicts are almost always times of isolation, he says. In addition to the community Sangha creates within its own walls, it also encourages its residents to join other communities—be that a volleyball team or a local community of faith.
But both recovery and external communities were hit once the pandemic arrived. "Sobriety is a huge part of their identity, but it's not the only part of their identity. A lot of our guys had been [joining other communities] so when the pandemic hit, it wasn't just their recovery community they were isolated from. There were all these other places where they were starting to feel like they belonged. It was an exponential hit for a lot of these guys."
Abernathy sees isolation and unemployment as the root cause of the increase in relapses the recovery community has seen since the beginning of the pandemic. Heightened anxiety is a common trigger for drug use. "A good friend of mine passed away a few days ago … of alcohol poisoning. He was sober up until he was furloughed from his job. He just wasn't prepared for that. Nobody deals with drastic, unexpected change that well."
When asked what he would like the public to know about addiction, Abernathy says most people associate addiction with a moral failure, but that addiction is a disease that has been recognized as such for many years. He says people who have a loved one struggling with addiction are often too scared or embarrassed to ask for help and seek treatment for them. This is especially important in the era of COVID.
While the number of people needing treatment has risen during the pandemic, many of the facilities are closing their doors to new patients. Abernathy closed the doors of Sangha temporarily to keep the current residents safe, but has worked with referral partners to put measures in place so Sangha could resume taking in residents without exposing the rest of the community.
COVID-related disruptions have been noticed elsewhere. A Massachusetts doctor noted that the government edicts to stay home are in stark contrast to the need to seek help in clinics or obtain medications that are helpful in treating addiction. Furthermore, though the government relaxed its regulations to allow for greater supplies of addiction-treating drugs like methadone, many patients weren't afforded that privilege. The Overdose Detection Mapping Application Program (ODMAP) observed an increase in overdose submissions of 20 percent when comparing the same time period in 2019 and 2020. Despite these setbacks, Abernathy believes Sangha is in good shape to continue and grow its impact in Tulsa and beyond.
He views his work now as helping with addiction and recovery on the micro level, but his aspirations extend to what he considers the macro level—helping craft policies that help those in the communities he serves. Currently, he's working with the OSU Center for Health Sciences to gather more data to make informed decisions on addiction and recovery.
He's looking forward to potentially joining forces with the National Association of Drug Court Professionals once things slow down with Sangha.
If things continue to go well in Tulsa, Abernathy would like to consider expanding his model into the Oklahoma City area to further grow the Sangha community. For now, Abernathy says Sangha will continue to offer a safe place for those in Tulsa looking to start fresh as they rejoin their communities.
"We really wanted to focus on elements that really make a person who they are. So that when they do reintegrate back into society, they are sober and they are able to take life on with a newer, greater perspective."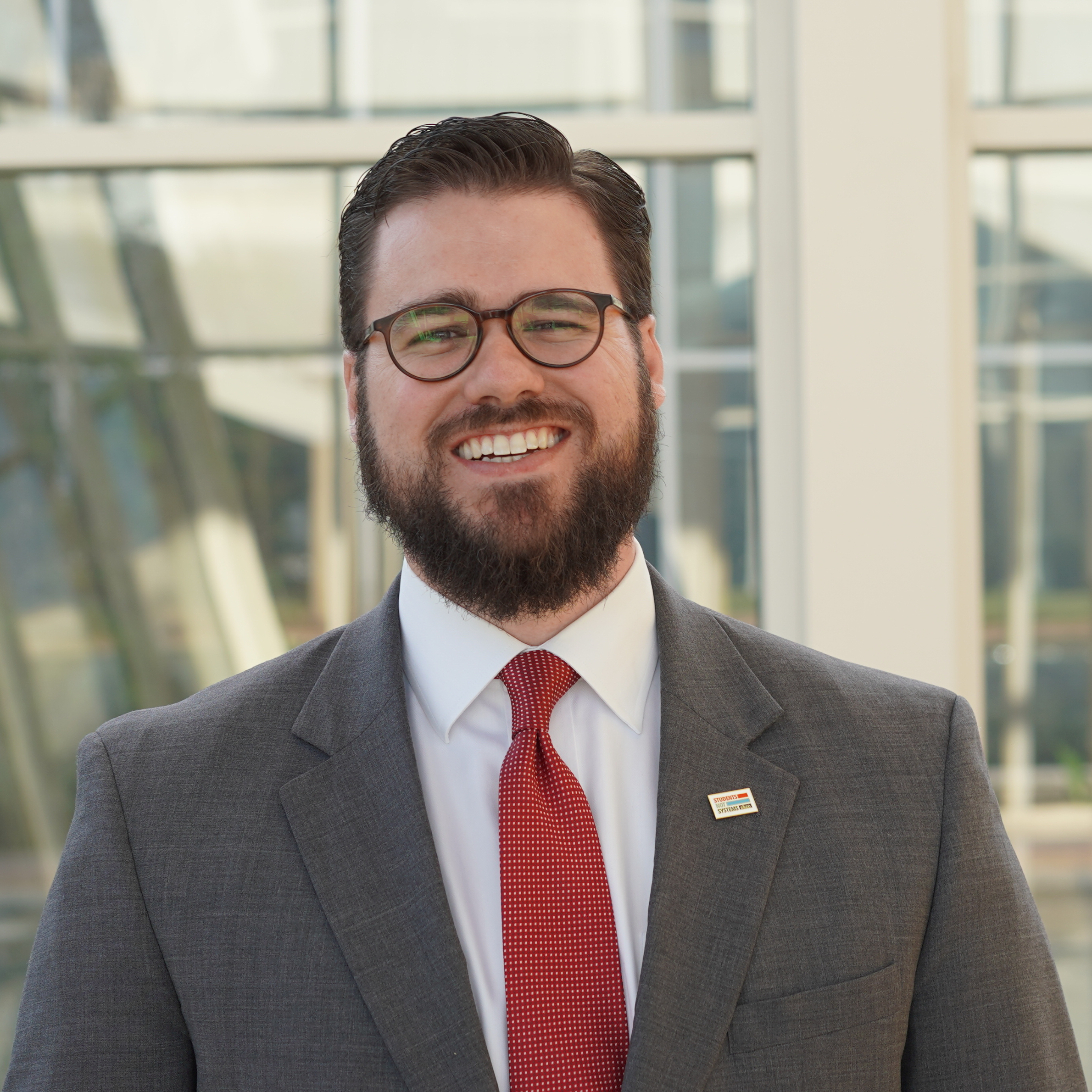 Ryan Haynie
Criminal Justice Reform Fellow
Ryan Haynie serves as the Criminal Justice Reform Fellow for the Oklahoma Council of Public Affairs. Prior to joining OCPA, he practiced law in Oklahoma City. His work included representing the criminally accused in state and federal courts. Ryan is active in the Federalist Society, serving as the Programming Director for the Oklahoma City Lawyer's Chapter. He holds a B.B.A. from the University of Oklahoma and a J.D. from the University of Oklahoma College of Law. He and his wife, Jaclyn, live in Oklahoma City with their three children.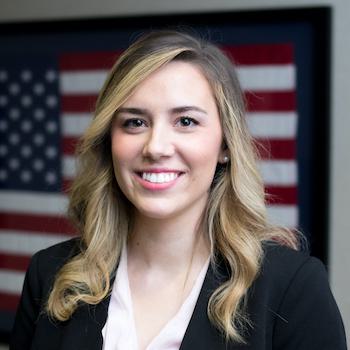 Kaitlyn Finley
Policy Research Fellow
Kaitlyn Finley currently serves as a policy research fellow for OCPA with a focus on healthcare and welfare policy. Kaitlyn graduated from the University of Science and Arts of Oklahoma in 2018 with a Bachelor of Arts in Political Science. Previously, she served as a summer intern at OCPA and spent time in Washington D.C. interning for the Heritage Foundation and the U.S. Senate Committee on Environment and Public Works.