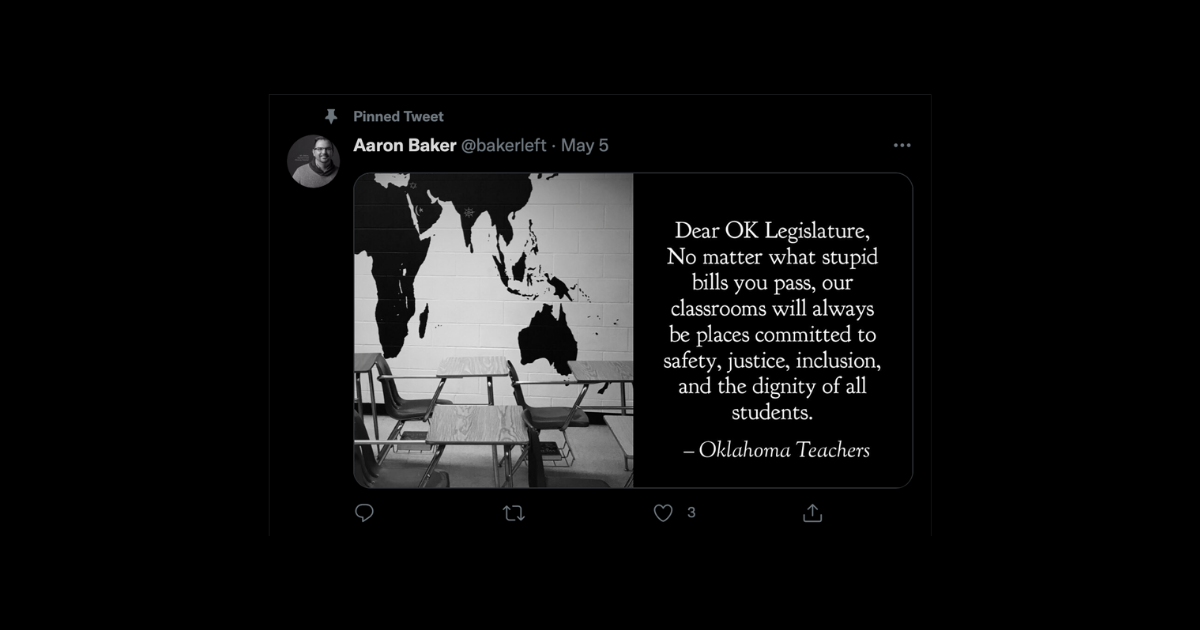 Education
Brandon Dutcher | July 7, 2021
Will Oklahoma teachers obey the law?
Brandon Dutcher
Governor Kevin Stitt recently signed HB 1775, prohibiting public schools from teaching children that "one race or sex is inherently superior to another race or sex" or that "an individual, by virtue of his or her race or sex, is inherently racist, sexist, or oppressive, whether consciously or unconsciously."
Not all teachers are happy about the new law. Aaron Baker, whose tweet is pictured above, teaches social studies at Putnam City North High School and proudly promotes "radical social justice in Oklahoma public schools." (Mr. Baker, the faculty advisor for the group Spectrum LGBTQIA+, recently informed us that "transgender girls are girls.")
He's not alone, of course. How could he be? For decades, colleges of education "have been notorious as agitprop factories," political scientist Greg Forster reminds us. (Have you looked at the OU College of Education social media feeds lately?) For those who have been paying attention, it's no surprise that the OU ed school, looking recently to fill two faculty positions, was "particularly interested in scholars whose intellectual traditions are grounded in the following areas: Queer, Trans, and/or Sexualities Studies in Education as intersecting with anti-racism/oppression in education, critical race theory, ethnic studies, queer studies, diaspora / migration / immigration studies, disability studies, or decolonial studies in education; and Critical Policy Studies in Education as intersecting with anti-racism, anti-oppression, equity, and justice in education."
Unsurprisingly, the rot has spread into Oklahoma's K-12 school system. Hence the need for legislation such as HB 1775.
The Resistance
But laws like HB 1775 don't settle the matter. "At its recent annual meeting and representative assembly," Ray Carter reports, "members of the National Education Association (NEA) vowed to support and promote use of Critical Race Theory in the classroom." One NEA delegate from Oklahoma, Kelli Roberts, called on the NEA to mobilize its members to oppose and "fight against" laws such as HB 1775. (The NEA subsequently erased from its website its commitment to promote Critical Race Theory.)
For its part, the American Federation of Teachers is featuring former Georgia gubernatorial candidate Stacey Abrams and Ibram X. Kendi, author of How to Be an Antiracist, at a conference this week.

"The world is going to be browner and gayer than any of us have ever imagined because people are so empowered to be themselves. No law is going to stop that." —Millwood superintendent Cecilia Robinson-Woods
There's more. The Zinn Education Project is named for the Marxist educator Howard Zinn, whose work "was a crusade built on secondary sources of questionable provenance, omission of exculpatory evidence, leading questions, and shaky connections between evidence and conclusions." The Zinn group is spreading lies about America and about Oklahoma's HB 1775, saying the law aims to "prohibit teachers from teaching the truth about this country: It was founded on dispossession of Native Americans, slavery, structural racism and oppression; and structural racism is a defining characteristic of our society today."
Several Oklahoma teachers, who claim to be "for truth-telling and uplifting the power of organizing and solidarity that move us toward a more just society," pledge to teach Zinn's version of "the truth," HB 1775 notwithstanding. The list of teachers continues to grow. For now it includes, among others, Jennie Hanna (Lawton), Christopher Bradley (McAlester), Nicole Hagans (Oklahoma City), Katherine Boydston (Duncan), William Carney (Lawton), Philip Harrington (Cache), Shelley Rees (Oklahoma City), Sarah Donovan (Stillwater), Tyrell Albin (Lawton), and Summer Boismier (Piedmont), who harrumphs: "My students in Oklahoma deserve the truth from at least one person." The list is updated here.
Two additional Oklahoma teachers, Eric and Justin, are also unhappy about HB 1775. "Justin, a middle school teacher in Oklahoma who prefers not to use his last name, tells Teen Vogue that he considers the critical race bans in his state not only upsetting but a dangerous scheme by Republican lawmakers." (Yes, Teen Vogue.)
Other public-school officials in Oklahoma also have attacked the new law. One publication in Tulsa, The Black Wall Street Times, even went so far as to publish a column saying that "white teachers who refuse to teach CRT should leave the profession."
In short, in a state whose 42,000 teachers favored Drew Edmondson for governor over Kevin Stitt by a margin of three to one, it's a good bet many educators are not fans of HB 1775.
And some are especially brazen about it. For example, Millwood superintendent Cecilia Robinson-Woods, who is paid $18,239 per month to obsess over masks while superspreading mass illiteracy and innumeracy, says her district will continue to support instructors teaching about race as they always have. "The world is going to be browner and gayer than any of us have ever imagined because people are so empowered to be themselves," she says. "We can't stop it. No law is going to stop that."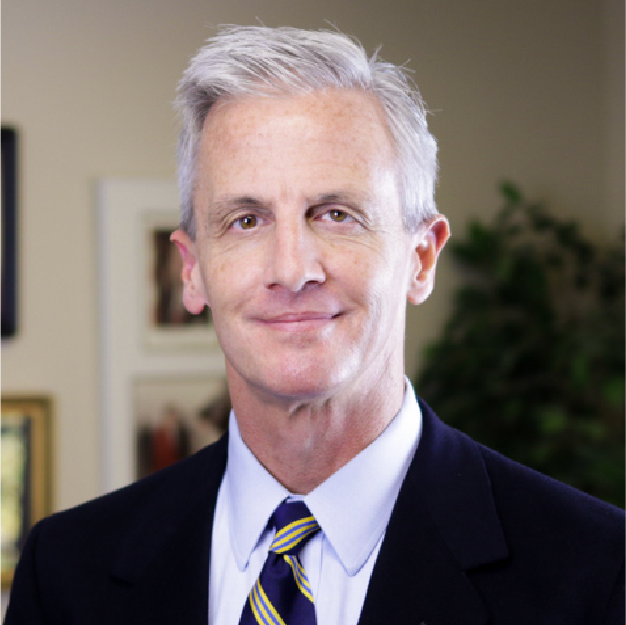 Brandon Dutcher
Senior Vice President
Brandon Dutcher is OCPA's senior vice president. Originally an OCPA board member, he joined the staff in 1995. Dutcher received his bachelor's degree in political science from the University of Oklahoma. He received a master's degree in journalism and a master's degree in public policy from Regent University. Dutcher is listed in the Heritage Foundation Guide to Public Policy Experts, and is editor of the book Oklahoma Policy Blueprint, which was praised by Nobel Prize-winning economist Milton Friedman as "thorough, well-informed, and highly sophisticated." His award-winning articles have appeared in Investor's Business Daily, WORLD magazine, Forbes.com, Mises.org, The Oklahoman, the Tulsa World, and 200 newspapers throughout Oklahoma and the U.S. He and his wife, Susie, have six children and live in Edmond.