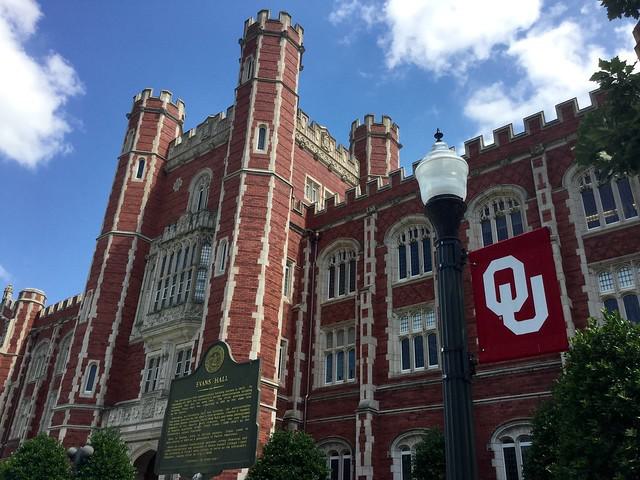 Higher Education
Mike Brake | September 13, 2019
Facing discrimination claims, OU settles with law professor
Mike Brake
The University of Oklahoma has reached a settlement agreement with a law school professor whose Christian beliefs and writings made him the target of hostile articles in the student newspaper last year and resulted in his loss of two administrative positions.
The American Catholic Lawyers Association announced in late August that Professor Brian McCall "has reached an amicable resolution of all claims relating to the end of his service as Associate Dean of the University of Oklahoma College of Law and Associate Director of the Law Center in October 2018 pursuant to a confidential settlement agreement."
While no details of the settlement were revealed due to binding confidentiality restraints, it is probable that university actions in the case resulted in undetermined costs to taxpayers.
The case arose from twin articles in The Oklahoma Daily student newspaper that claimed McCall had expressed "sexist and homophobic views" in a book he wrote in 2014 that discussed his views as a Catholic, and that his editorship of a Catholic publication associated him with alleged anti-Semitism. Much of the article's content relied on allegations from the Southern Poverty Law Center, a controversial group that has long been criticized for labeling mainstream conservative organizations as "hate groups." The SPLC's founder was fired in 2019 amid allegations of sexual harassment.
Following the articles, McCall was forced to relinquish two administrative posts he held in the College of Law, which in turn prompted his discrimination claims and the recent legal settlement.
Then-OU law dean Joseph Harroz, who is currently serving as interim OU president, announced in a message to students and staff that an investigation had found no wrongdoing by McCall—but that he was nonetheless resigning.
"The OU College of Law is a place of inclusion," Harroz wrote.
The McCall controversy began in September 2018 when student reporter Drew Hutchinson wrote two articles for the campus paper, one headlined "OU law professor, associate dean expresses homophobic, sexist views in 2014 book."
At issue was McCall's authorship of To Build the City of God: Living as Catholics in a Secular Age. According to the article, "the book contains McCall's views regarding parts of his traditionalist Catholic beliefs about gender roles, same-sex marriage, education, politics and economics."
Among the positions Hutchinson apparently found offensive were McCall's belief that women should wear skirts rather than pants and keep house rather than work. McCall was also quoted as calling same-sex marriage "insanity," given marriage's role in procreation. McCall also suggested many campus majors like women's and gender studies are "nonsense subjects."
In another article, Hutchinson questioned McCall's editorship of Catholic Family News magazine because, the reporter wrote, "The Southern Poverty Law Center classifies this New York-based publication as a hate group due to its former editor's beliefs and its anti-Semitic ties." That connection was apparently based on a statement by a former, now deceased, editor of the publication calling Judaism "part of the kingdom of Satan" in 2003, long before McCall was associated with the publication.
McCall wrote of the publication that its future direction "does not and will not involve bigotry or injustice against any people on the grounds or race or ethnicity" in response to an inquiry from Hutchinson. McCall also dismissed the Southern Poverty Law Center's labeling practices, telling the campus paper that SPLC had "made lots of false accusations against many, many different people and organizations."
Subsequently, multiple allegations of sexual harassment were raised against SPLC founder Morris Dees, and whistleblower reports from former staff members indicated the organization labeled many conservative groups as hate groups to boost contributions from leftist donors—with contributions later used to fund lavish lifestyles for senior executives.
After the two OU Daily articles, then-spokesperson for OU Erin Yarbrough said that McCall had "an impeccable record as an administrator and is consistently ranked as one of the top professors in the College of Law."
The OU Equal Opportunity Office launched an investigation of McCall and found no wrongdoing or evidence that he had treated anyone inappropriately.
"(T)he independent review has uncovered no evidence of workplace harassment or discrimination," Harroz said in a message to students and staff. "Despite this conclusion, Brian McCall has voluntarily resigned his position as Associate Dean for Academic Affairs, effective immediately, because of the controversy about his personal statements."
A source with knowledge of the case indicates McCall did not resign, but was forced out of his twin administrative positions by Harroz.
After noting the law school was a place of inclusion, Harroz went on to write, "At all levels of the college, we promote the importance of diversity, multiculturalism, inclusion, and equality for all students, faculty, and staff." Harroz opened the message by noting he did not agree with McCall's faith-based positions.
The newspaper articles that sparked the controversy noted that, like all tenured college faculty, McCall was protected by academic freedom no matter what views he might espouse, and that his authorship of the book and editorship of the magazine were private enterprises and not connected to his duties at OU. Nor was he ever accused of bringing his religious views into the classroom.
One former student was quoted in news accounts at the time as saying, while she considered herself "a Democrat and a feminist" who disagreed with McCall's views, she said he "was never anything but kind, fair and extraordinarily helpful to me as a student. I never felt discriminated in any way, for any reason in his classes, or in my encounters with him as an administrator."
When contacted, McCall reiterated that provisions of the settlement prohibit him from commenting on its details. He said he was "saddened by the events that led to this situation, but I am glad to be back teaching students, which is the primary mission of this university."
Brecken Wagner, the attorney who handled the case on behalf of the Catholic lawyers group, said that due to confidentiality requirements surrounding the settlement he could not comment or make public any details about the settlement. He did note that "Mr. McCall is in a good place" as a result of the settlement.
OCPA has filed an open records request with OU seeking details on any and all settlements with faculty or staff for 2018 and 2019.
Mike Brake
Independent Journalist
Mike Brake is a journalist and writer who recently authored a centennial history of Putnam City Schools. A former reporter at The Oklahoman (his coverage of the moon landing earned a front-page byline on July 21, 1969), he served as chief writer for Gov. Frank Keating and for Lt. Gov. and Congresswoman Mary Fallin. He has also served as an adjunct instructor at OSU-OKC, and currently serves as public information officer for Oklahoma County Commissioner Brian Maughan.