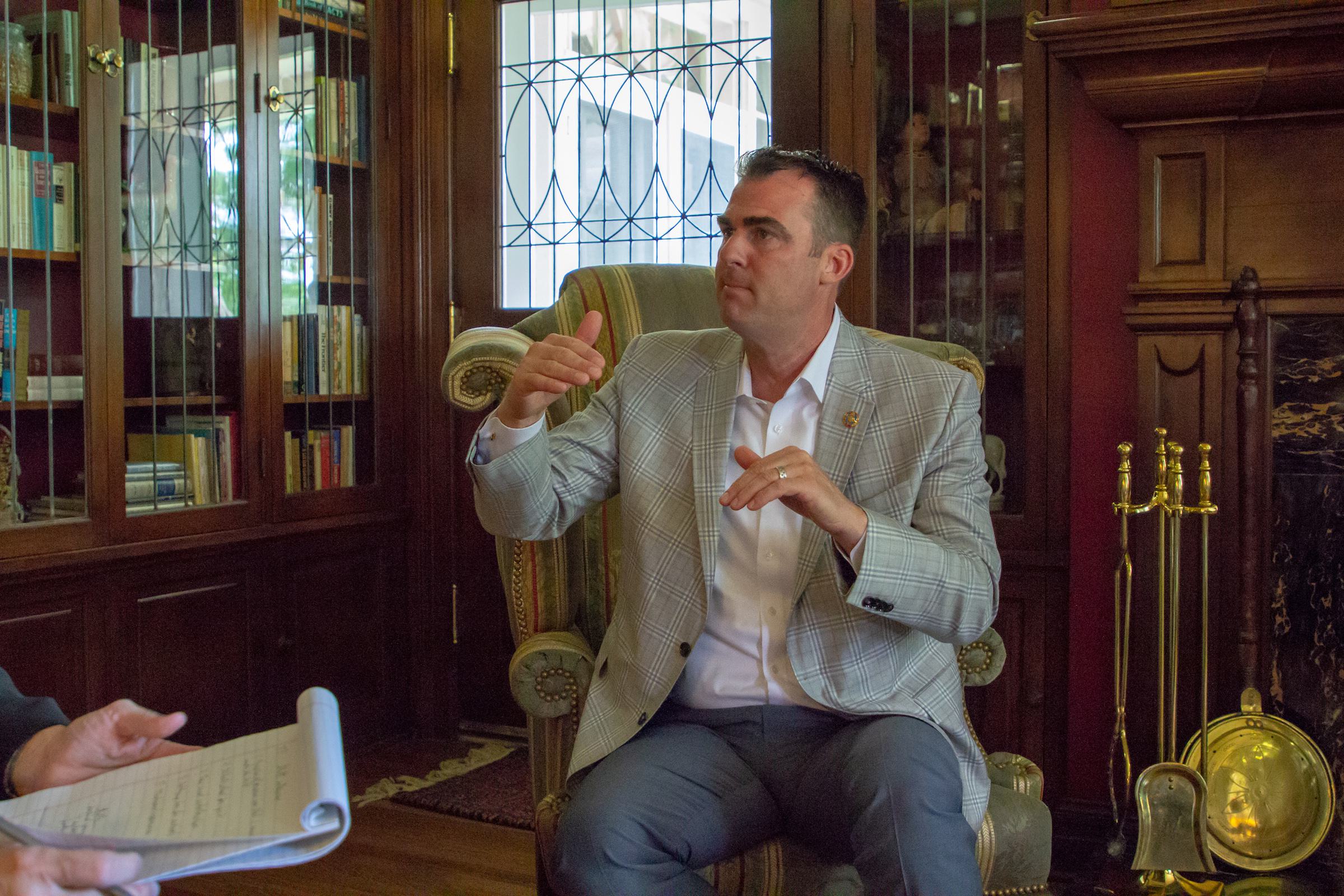 Good Government
Ray Carter | July 8, 2019
Gov. Stitt: 'Are we done? Absolutely not'
Ray Carter
A year ago, Kevin Stitt was a businessman who narrowly made the cut for the Republican runoff race. Since then he's gone from political outsider to sitting Oklahoma governor, and he now has his first legislative session under his belt. By most accounts, Stitt's first year has been marked by success, but there's no indication those results are fueling complacency.
"If you go back and look at our State of the State address, we checked off every single thing we wanted," Stitt said. "But are we done? Absolutely not. That was my freshman season, and I plan on having a more successful sophomore season."
In an interview at the governor's mansion, Stitt exuded enthusiasm and drive. He elaborated on his vision while simultaneously coming across as someone who doesn't waste a minute. Some say politics is a marathon, not a sprint. If so, Stitt seems intent on setting a pace that more closely resembles the latter than the former.
Being an outsider has its advantages, but one downside is that you don't know what you don't know until you're in the job. Stitt says one thing that surprised him most was the lack of government accountability.
"This is really all about running a big service organization," Stitt said. "And these state agency heads, there's really no incentive. I'm trying to change the incentives to actually make decisions and to actually save money and deliver outcomes and to define success, because there's really no incentive for them to make a tough decision, to fire anybody, to redirect, to reorganize. And that's what I'm constantly trying to manage those folks running those agencies, that, 'Hey, you've got to dig into the weeds and you've got to manage and you've got to think of things differently.'"
During the final days of session, Gov. Stitt met with lawmakers and urged them to raise the cap on Oklahoma's tax-credit-scholarship program. The legislation didn't quite cross the finish line in the session's final days, but Stitt predicts success in 2020.
Stitt requested, and the Legislature approved, statutory changes that allow him to appoint the directors of five major agencies. After learning 33 state agencies, boards, and commissions had spent $1.5 million annually on contract lobbyists, the governor also issued an executive order that prohibits agencies from using taxpayer funds to hire outside lobbyists.
Thanks to a huge surplus, Stitt was able to deliver a promised teacher pay raise and also set aside $200 million, which brought state savings up to roughly $1 billion.
Often, a governor's first year is one of his or her most successful because of the "honeymoon" period before lawmakers or voters tire of an incumbent. If that proves the case for Stitt, and the majority of his accomplishments are already behind him, does he believe he's done enough to alter Oklahoma's trajectory in the right direction? Stitt answers in the affirmative, saying this year's reforms will benefit Oklahoma for generations.
"People tell me that our first session—doing that agency accountability bill—was something that will help governors 50 years from now," Stitt said. "So I'm very proud of that."
Even so, he's intent on making sure this year's accomplishments are a stepping stone, not a capstone.
"I don't accept that premise that my first year was going to be my most successful," Stitt said. "I'm just way too much of an optimist to say we're not going to do greater things next year."
So what's next?
"We're working on a lot of big ideas, and we're doing some outside strategy sessions," Stitt said. "I've got a lot of guys spread out around the country right now focused on what is the right way to reform our education system in Oklahoma—higher ed, CareerTechs, and common ed. We've got big groups working around the country on bringing the right ideas on health care. We're talking to the White House. They're telling us, 'You tell us what type of waivers, how we can deliver services better.' So we've got some great ideas."
In the area of education, Stitt supported this year's effort to raise the cap on the Oklahoma Equal Opportunity Education Scholarship Act. That law provides a tax credit to businesses and individuals who donate to organizations that provide private-school scholarships. The program also provides tax credits to those who donate to public-school programs. Legislation was filed to raise the program cap to $15 million for both parts of the program for a combined total of $30 million annually. It is estimated that change would allow up to 5,000 more students—mostly children from low-income families or those with special needs—to benefit from privately funded scholarships, and also inject up to $27 million in private funding into traditional public schools.
During the final days of session, Stitt met with lawmakers and urged support of the plan. The legislation didn't quite cross the finish line in the session's final days, but Stitt predicts success in 2020.
"It makes sense," Stitt said. "I look at Florida, some of the success they've had moving up in the rankings. You know, providing more opportunities for our poor students and people that don't have access to schools, I think, makes a lot of sense from the private perspective. Also, companies want to donate. They want to adopt schools. So it gives some tax incentives to our public system, and we were breaking it down 50-50, so it just made a lot of sense to me, and I think that's something we can get across the finish line next year."
Over the past two years, K-12 appropriations have been increased by a combined $638 million, or 20 percent, and teacher pay has surged an average $7,320 per teacher. Yet some education activists continue to decry the Legislature, with one group active on social media recently calling for the ouster of numerous Republicans who have supported those spending increases. That's another aspect of politics that baffles Stitt.
"It's what's so weird about this whole thing," Stitt said. "I want the public to understand that. There's no reason that they should be attacking our great senators and House members. We've had a record budget year."
Now that the state has "increased spending, across the board," Stitt said, it's "time that we can show some results for that."
While Stitt has said he opposes Medicaid expansion, his promise to develop his own health-care plan is often interpreted as backhanded support for some form of Medicaid expansion. But Stitt remains blunt in his rejection.
"I am absolutely not for Medicaid expansion," Stitt said. "That's fixing to be on the ballot. That increases enrollment to 138 percent of the poverty line. I'm not for that. Do I want to try to fix and have better health outcomes for Oklahomans? Absolutely. So if there's federal dollars that can help me with that—that I don't put Oklahomans in a bind that costs our state money and puts more people on a system—then I'm for that. I believe I have a blank slate, and I've got a whole team that is working to design what Oklahoma's plan looks like and I'll be ready to share that with Oklahomans sometime around October, and it's going to be a fantastic solution. It's going to be the right thing. It's going to be reorganizing how we deliver primary care throughout our entire state, especially our rural areas, who can sign up for it, how do we incentivize outcomes instead of fee-for-service. There's all kinds of things related to that. But just to throw $1 billion into the system and throw more people on the system, I'm absolutely not for that."
In addition to unveiling his health care plan in October, Stitt also hopes to unveil his education plan between October and December, making for a busy fall. Stitt said he will also remain focused on reforming how state agencies are run.
"That's a lot of my offseason is rallying the troops, setting the right vision, getting the right goals in place, getting the right talent in place to deliver those services," Stitt said. "I've got my hands full, not only on the policy things as we work for next year, but also just on delivering services and managing the state."
In the past, Stitt said the model was to have "the lobbyists and the companies come in and say, 'We want this law changed or this, this and this.'" He's trying to change the system to produce better long-term planning.
"We're looking at this more big picture," Stitt said, "and moving Oklahoma forward."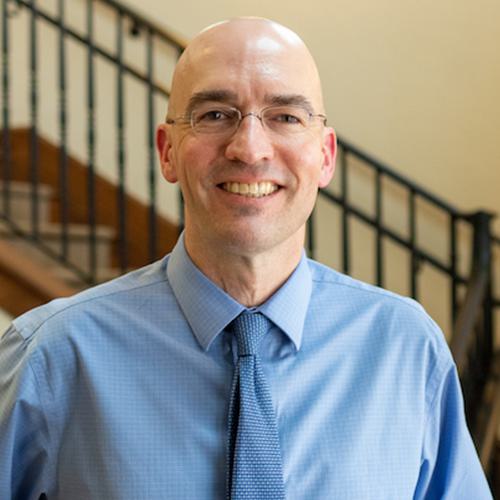 Ray Carter
Director, Center for Independent Journalism
Ray Carter is the director of OCPA's Center for Independent Journalism. He has two decades of experience in journalism and communications. He previously served as senior Capitol reporter for The Journal Record, media director for the Oklahoma House of Representatives, and chief editorial writer at The Oklahoman. As a reporter for The Journal Record, Carter received 12 Carl Rogan Awards in four years—including awards for investigative reporting, general news reporting, feature writing, spot news reporting, business reporting, and sports reporting. While at The Oklahoman, he was the recipient of several awards, including first place in the editorial writing category of the Associated Press/Oklahoma News Executives Carl Rogan Memorial News Excellence Competition for an editorial on the history of racism in the Oklahoma legislature.