Education
Ray Carter | March 24, 2020
In north Tulsa, educators innovate to continue learning
Ray Carter
Due to coronavirus and concerns about students' access to the Internet, Oklahoma public schools have been ordered to halt learning through at least April 6, a mandate that applies to all options, including online learning. But it's full steam ahead for one private school serving working-class students in north Tulsa.
Officials at Crossover Preparatory Academy spent Monday providing students with laptop computers and instructions on how students' educations will continue online in the days ahead.
"It's not as good as what we could have been doing here in person and live, but it's way better than our kids not doing anything," said Philip Abode, executive director of Crossover Preparatory Academy. "We are confident that our guys are still going to be learning and progressing (online) over the next several weeks, and possibly for the rest of the school year."
Crossover Preparatory Academy serves students in grades six through nine. The student body is all-male, primarily black, and overwhelmingly from working-class families. In the north Tulsa community surrounding Crossover, just 15.3 percent of residents have a bachelor's or advanced degree.
Abode said preparations for the transition online began when the school closed one day early for spring break. That time was used by staff to plan for remote learning.
All Crossover students have access to Chromebook laptops, but those computers are normally left at the school. Now they are being checked out to students to allow online learning at home.
The school will do live classrooms through Google Hangouts, a group video service. Academic coaches will have routine contact with students, Abode said.
"They have a weekly checklist of assignments that they have to complete, and the academic coach will be in touch with them if they're not getting their assignments done, or to help them or to see what kind of support they need," Abode said. "Every week they'll be getting sent a list of assignments for the week, and there will be several touchpoints throughout the week with their teachers or with their academic coach."
The Oklahoma State Department of Education has directed public schools not to provide distance learning, at least for now, in part because not all students have Internet access.
"I get it, but it's tough at the same time," Abode said. "Now no one's able to learn for a while."
Crossover officials faced the same challenge with student connectivity but have worked to overcome it.
Abode noted that Cox Communications offers Internet service for $10 a month to anyone who is on any form of government assistance, such as the Supplemental Nutrition Assistance Program. That will help some, but not all, students.
"The bigger issue for us is going to be those families that fall within the cracks," Abode said. "They make too much to qualify for something like that, but it's still tough and they can't afford Internet. And so we're going to be looking at different options to find ways to get our kids online to be able to do their work."
He said the school is reaching out to donors, local foundations, and similar organizations that may provide assistance to those families during this time of social distancing.
"We're going to do everything we can to make sure our kids have access so that they can work and not just waste this time," Abode said.
Many students at Crossover are beneficiaries of the Oklahoma Equal Opportunity Education Scholarship Act, which provides a tax credit for donations to private scholarship-granting organizations. Scholarships funded by the program must go primarily to working-class children or those with special needs.
While many students at Crossover and other schools continue to benefit from the program, particularly during this time when Oklahoma public schools are closed, the scholarship program's reach has been hampered by the current cap on the amount of tax credits that can be issued. The cap has been reached, reducing opportunity for many children.
Legislation to raise the cap, a move endorsed by Gov. Kevin Stitt, awaits approval from state lawmakers.
Over half of Crossover families picked up their child's Chromebook before noon on Monday, which Abode sees as a sign of involvement and commitment. He said school officials will also use the Zoom online video service to conduct a meeting with parents next weekend to see how the online learning process is working.
Parental commitment to children's education has been very apparent in some cases.
"One dad has already been in contact with the school on getting help with getting things set up so that his son can start today doing his work," Abode said. "We weren't expecting kids to get after it yet, today, but we have at least one student I know is getting after it."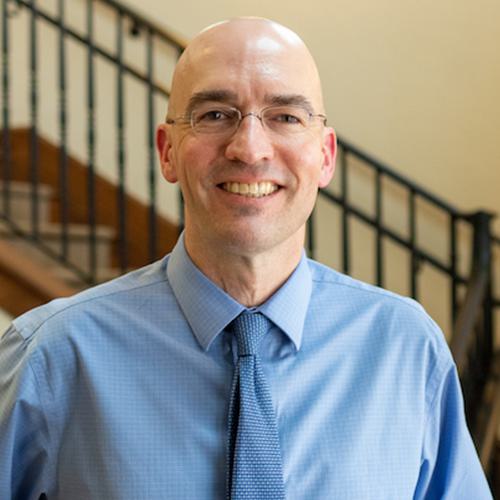 Ray Carter
Director, Center for Independent Journalism
Ray Carter is the director of OCPA's Center for Independent Journalism. He has two decades of experience in journalism and communications. He previously served as senior Capitol reporter for The Journal Record, media director for the Oklahoma House of Representatives, and chief editorial writer at The Oklahoman. As a reporter for The Journal Record, Carter received 12 Carl Rogan Awards in four years—including awards for investigative reporting, general news reporting, feature writing, spot news reporting, business reporting, and sports reporting. While at The Oklahoman, he was the recipient of several awards, including first place in the editorial writing category of the Associated Press/Oklahoma News Executives Carl Rogan Memorial News Excellence Competition for an editorial on the history of racism in the Oklahoma legislature.