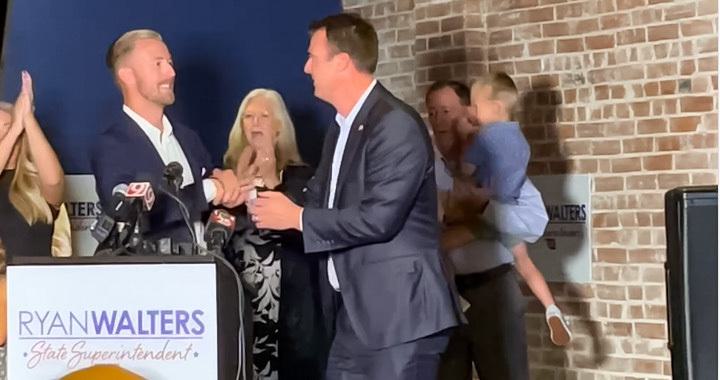 Education
Ray Carter | August 24, 2022
School-choice supporters prevail in runoff
Ray Carter
School-choice supporters continued to prevail in the Aug. 23 runoff elections with the most-high profile victory occurring in the race for the Republican nomination for state superintendent of public instruction.
Ryan Walters, a teacher who serves as Gov. Kevin Stitt's cabinet secretary of education, prevailed over April Grace, the superintendent of Shawnee Public Schools. He will next face Democratic nominee Jena Nelson in November's general election.
Stitt called Walters' win "a huge victory for parents and kids."
"People spoke all over the state that they want parents to have more choice in their education system," Stitt said. "We want to be top 10 in everything that we do and I'm telling you, for the next four years with this guy as state superintendent of education, we are going to go to the top."
Walters ran as an unabashed supporter of allowing taxpayer money to follow the child to any school and allowing parents to determine what school best fits their child's needs.
"The way I grew up was that the family are the people that know best for kids, and they have to be as included in the educational system as best as possible," Walters said in his victory speech. "And the way that you do that is through school choice. What we've seen tonight is a mandate from Oklahoma voters. Governor Stitt's education vision and school choice is going to happen in the state of Oklahoma."
Walters had a strong showing statewide, winning in rural, suburban, and urban areas alike. Overall, he carried 40 counties and in a 41st county—Johnston—the two candidates tied.
In those areas where Grace received majority support in the two-way race, the margin of victory was extremely narrow in a significant share of counties. In Pawnee County, just nine votes separated the two candidates. In Cimarron County, the margin was only 13 votes. The margin was similar in several other counties carried by Grace: Dewey County (22 votes), Grady County (24 votes), Greer County (27 votes), and Murray County (24 votes).
Because she is the superintendent of Shawnee Public Schools, Pottawatomie County was expected to be a base of support for Grace. But she received less than 41 percent of the vote in Pottawatomie County while Walters received more than 59 percent.
The story was different for Walters, who grew up in Pittsburg County and previously taught school for eight years at McAlester High School, where he became an Oklahoma Teacher of the Year Finalist in 2016. Unofficial results show Walters easily carried his home county.

Oklahoma Ethics Commission records show that Grace's campaign received thousands of dollars in campaign funding from the National Education Association's "Fund for Children and Public Education." The union has also sought to influence Oklahoma legislative races this year through donations made by its state affiliate, the Oklahoma Education Association. Campaign-contribution reports show the union helped bankroll the campaigns of state Reps. Rhonda Baker, R-Yukon; Mark McBride, R-Moore; Anthony Moore, R-Clinton; and state Sen. Brenda Stanley, R-Midwest City.
Walters said he and Stitt, who also championed school choice and easily prevailed over three challengers in his June primary, will fight for parents, not unions.

"Governor Stitt's education vision and school choice is going to happen in the state of Oklahoma." —Ryan Walters
"We are going to reject calls from the teachers' union to push woke, left-wing indoctrination in our schools, and we're going to ensure that our students have the best academic experience possible," Walters said. "Teachers' unions and special interests don't represent Oklahomans. The people who represent Oklahomans are parents, are grandparents, are communities that want the best education for their kids. And what you're going to continue to hear from me and from the governor is we're going to speak on behalf of those parents. We are going to champion every child as an individual capable of greatness if they are given high expectations and given a good academic experience. And we are not going to stop until Oklahoma is a leader in education and every child has every opportunity at success."
Stitt and Walters are not the only instances in which school-choice supporters have prevailed in state primaries this year.
In a release, the American Federation for Children, which advocates for educational choice, highlighted three successful runoff-election candidates who received campaign support through the Oklahoma Federation for Children Action Fund: Ally Seifried in state Senate District 2, Cody Maynard in state House District 21, and Collin Duel in state House District 31. (All three are Republicans.)
"There is no question that Oklahoma families want their children to have the best education options—options that can only be made available through expanded school choice," said Jennifer Carter, state lead for American Federation for Children-Oklahoma. "Now, their voices are being heard at the ballot box where school choice champions are overcoming their status-quo-supporting opponents."
On her campaign website, Seifried said she is "Pro Parental Choice" and "believes we need to invest in quality education for all Oklahoma children and empower parents to make the best decisions for their children—whether it's choosing a school or demanding that Critical Race Theory be banned from classrooms."
On his website, Maynard said, "No one understands the needs of their children better than their parents or caregivers both pertaining to curriculum and school choice."
At a June candidate forum, Duel said, "A parent is fundamentally charged with raising their children and a part of that is deciding where or how they are educated. So I definitely support giving parents the ability to choose where and how their kids are educated."
During the June primary, two incumbent lawmakers who opposed school choice were ousted and replaced by candidates who support education freedom.
State Rep. Logan Phillips, R-Mounds, was defeated in his re-election bid by Chris Banning. Phillips received just 29 percent of the Republican primary vote. Banning, who was supported in his race by the Oklahoma Federation for Children Action Fund, received nearly 55 percent of the vote.
State Sen. Jake Merrick, R-Yukon, originally campaigned as a school-choice supporter but flipped his position and helped kill Education Savings Account legislation on the Senate floor earlier this year. That bill would have allowed money to follow a child to any school.
Merrick lost his re-election bid to Kristen Thompson, a Republican whose website stated that she would work to "empower parents with any and all resources that ensure their child's educational needs are met."
In contrast, incumbents who supported school choice easily prevailed over challengers in the June primary, including state Sen. John Haste, R-Broken Arrow, and state Rep. Sherrie Conley, a Newcastle Republican and longtime educator.
Other candidates who have won key primaries this year have also expressed support for school choice.
According to NonDoc.com, the winner of the Republican runoff primary in state House District 13, Neil Hays, said he could support legislation creating vouchers, depending on a proposal's specific details, saying, "Parents should have the ability to take their kids wherever they want to go ..."
Clay Staires, a former teacher and former member of the Avant school board who won the Republican runoff primary in state House District 66, spoke in favor of school choice at a candidate forum posted on his website.
"A type of voucher is important," Staires said. "Number one, because what it does is it creates competition, and competition in our society here in America is a good thing. And unfortunately, so many of our state-run educational systems don't have competition, and therefore there's no accountability, therefore there's no push for production."
He said the main argument against school choice is that it involves change, which is often difficult. But he also stressed that change is needed in Oklahoma education.
"If we don't do something to change what we're doing in education, then we're going to keep getting the outcomes that we have," Staires said. "And our ranking in education is not good, and the quality of education that our children are getting is not the highest. It's not what we want for our children, so something has to change."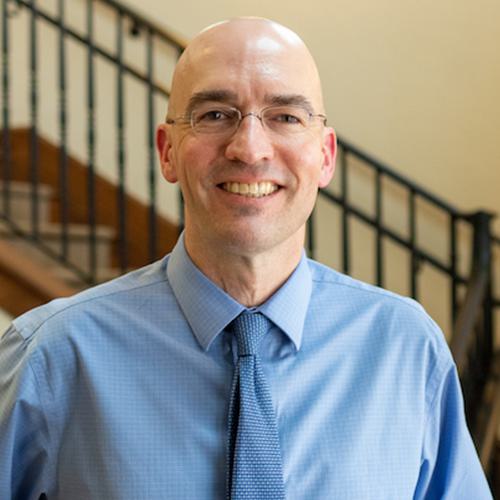 Ray Carter
Director, Center for Independent Journalism
Ray Carter is the director of OCPA's Center for Independent Journalism. He has two decades of experience in journalism and communications. He previously served as senior Capitol reporter for The Journal Record, media director for the Oklahoma House of Representatives, and chief editorial writer at The Oklahoman. As a reporter for The Journal Record, Carter received 12 Carl Rogan Awards in four years—including awards for investigative reporting, general news reporting, feature writing, spot news reporting, business reporting, and sports reporting. While at The Oklahoman, he was the recipient of several awards, including first place in the editorial writing category of the Associated Press/Oklahoma News Executives Carl Rogan Memorial News Excellence Competition for an editorial on the history of racism in the Oklahoma legislature.