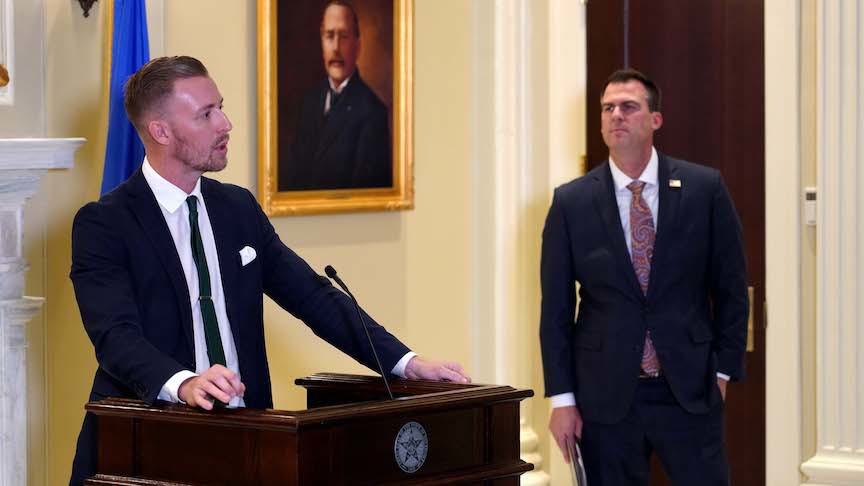 Education
Ray Carter | January 18, 2022
Stitt announces effort to increase substitute teachers
Ray Carter
An executive order issued by Gov. Kevin Stitt will allow 32,000 Oklahoma state government employees to serve as substitute teachers without forgoing their normal salary, which will help school districts continue offering in-person instruction amidst the national surge in omicron-variant COVID cases.
A private-sector initiative, announced alongside the state-worker plan, could further boost the number of substitute teachers.
"We've made it clear that schools need to be open for in-person learning," Stitt said. "Oklahoma students deserve that option of being in-person, in class with their teachers."
Under Stitt's executive order, state government employees can serve as substitute teachers while still receiving their state salary. That will boost manpower in districts and also free up money a school would otherwise spend on pay for other substitute teachers, officials noted.
Secretary of Education Ryan Walters, a longtime schoolteacher, said it is crucial to continue providing in-person instruction in Oklahoma schools.
"We've seen throughout the pandemic the negative health impacts when it comes to the mental health of a young person, when it comes to the academics of young people, that do not have in-person school," Walters said. "So we have been working to keep schools open, from day one, so that our students have that option."
Stitt and Walters both praised the work of teachers and administrators who have worked to maintain in-person instruction.
To help address the shortage of substitutes that has led some school districts to close, the State Chamber of Oklahoma has also launched an Oklahoma Guest Educator Initiative to match private-sector employees with valuable skills to substitute in classrooms across the state as guest educators. The web site for the initiative suggests businesses may offer additional days of paid leave to employees who serve as substitute teachers.
"We all know that school closures really negatively impact the economy in both the short- and the long-term," said Chad Warmington, president of the State Chamber of Oklahoma. "Various global studies and national studies have concluded that students that are out of school have a long-term reduction in their earning power and in the potential long-term reduction in the overall GDP of the nation."
Stitt noted this is the third major surge of COVID infections in Oklahoma since the pandemic began and that this latest wave has involved the highest peak so far, although he noted the current variant is also much less severe when it comes to hospitalizations.
While Oklahoma is experiencing a record number of COVID cases, Oklahoma's trends are in line with those seen in all states today, regardless of vaccination rates or government COVID policies.
According to data posted on Jan. 18 by the federal Centers for Disease Control and Prevention, 99.5 percent of all counties in the United States are currently experiencing high levels of community transmission—3,208 counties out of 3,220 nationwide.
"Regardless of policy and what any state has done, every state has seen COVID positives go up," Stitt said.
While officials continued to encourage Oklahomans to get vaccinated, data shows COVID vaccines are less effective at reducing omicron transmission.
"We're also seeing now 43 percent of the new positive cases are from vaccinated individuals," Stitt said.
However, he said officials believe vaccines are playing a role in keeping people out of the hospital.
Stitt noted that hospitalization numbers in Oklahoma remain lower than in prior COVID waves, a sign that omicron is less severe. Stitt said State Department of Health data indicates up to 45 percent of Oklahomans currently hospitalized with COVID were hospitalized for other conditions and found to simply be COVID-positive at the same time.
"ICU numbers right now are around 270 across the state of Oklahoma," Stitt said. "The peak number was over 400 in January. And, again, out of that 270, about 40 to 45 percent of those are there with COVID, not because of COVID."
Stitt said data from surrounding states indicates the COVID surge in those states is starting to decline and said that leads officials to believe Oklahoma may be near its peak and will soon see numbers fall.
Oklahoma Superintendent of Public Instruction Joy Hofmeister, who recently switched parties and is seeking the Democratic gubernatorial nomination to challenge Stitt in this year's election, has previously criticized efforts to increase the number of substitute teachers.
In a Jan. 13 interview with KRMG in Tulsa, Hofmeister said that "flooding our schools with untrained volunteers is not the answer, and puts our children further at risk." She has offered few concrete details outlining how she would handle COVID, other than a Jan. 15 tweet where Hofmeister said she would provide "COVID updates w/helpful stats," "transparency w/hospital data," "spotlighting PCR testing rates," and "distributing more at-home tests."
Under Stitt, the state already provides COVID data updates each weekday. Also, there is a national shortage of at-home COVID tests.
Another prominent Democrat similarly decried Stitt's efforts. State Sen. Carri Hicks, an Oklahoma City Democrat who previously served as a public-school teacher, said Stitt's effort to boost the supply of substitutes "diminishes teachers' contributions and expertise in the field of education, undermines the safety of our classrooms and ignores the complexity involved in educating a child."
While having a classroom teacher in front of children remains best, Stitt said substitute teachers provide significant benefit to children and help families avoid situations that can be detrimental to children.
"These parents are still having to go to work and these kids are left by themselves at home," Stitt said, "so I would much rather have them in the classroom, and I think most parents agree with me."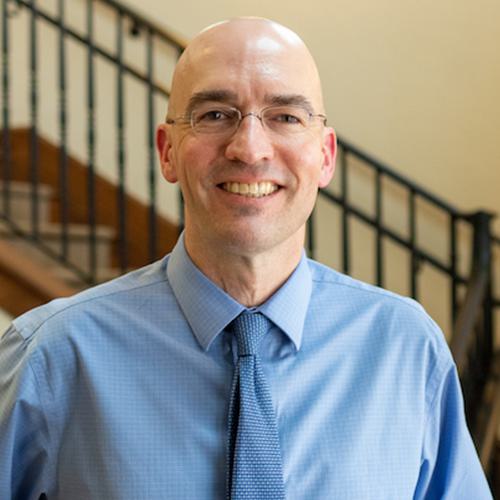 Ray Carter
Director, Center for Independent Journalism
Ray Carter is the director of OCPA's Center for Independent Journalism. He has two decades of experience in journalism and communications. He previously served as senior Capitol reporter for The Journal Record, media director for the Oklahoma House of Representatives, and chief editorial writer at The Oklahoman. As a reporter for The Journal Record, Carter received 12 Carl Rogan Awards in four years—including awards for investigative reporting, general news reporting, feature writing, spot news reporting, business reporting, and sports reporting. While at The Oklahoman, he was the recipient of several awards, including first place in the editorial writing category of the Associated Press/Oklahoma News Executives Carl Rogan Memorial News Excellence Competition for an editorial on the history of racism in the Oklahoma legislature.