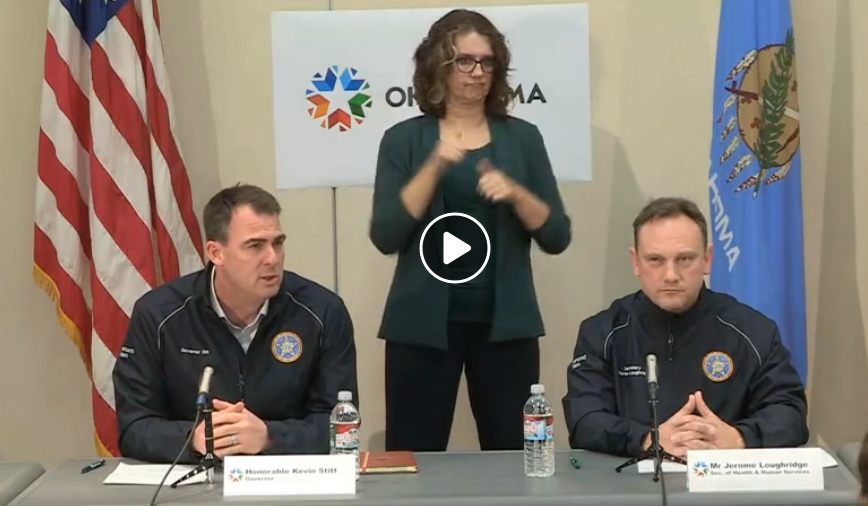 Culture & the Family , Good Government
Ray Carter | March 23, 2020
Stitt: Businesses' survival important to state recovery
Ray Carter
While some individuals are urging Gov. Kevin Stitt to issue an order mandating the closure of numerous businesses across Oklahoma in response to the COVID-19/coronavirus event, the governor said he does not currently support that action.
He noted such closures may be far from temporary, the job losses created will augment hardship across the state, and that action has not been endorsed by the federal government through the Centers for Disease Control and Prevention (CDC).
"The question is: When you shut down something, when does it come back?" Stitt said. "We're looking at modeling that this could go on for a while. This may be the new normal. And that's why I'm telling businesses they've got to innovate."
During a Sunday press conference, Stitt said he has several goals for Oklahoma as he deals with the COVID-19/coronavirus event. His "first and number one priority is to protect the health and lives of Oklahomans." But the governor said he is also working "to mitigate the impact to Oklahoma's economy" and "position the state to fully recover from this crisis as quickly as possible."
"Small businesses, all across our state, are struggling," Stitt said.
Stitt said businesses and citizens should continue to heed CDC guidelines, such as avoiding gatherings of 10 or more and to engage in social distancing.
He also noted the "innovation that businesses are doing all across our state. They're doing a really good job." Businesses have found "ways to continue to serve their customers while we're still respecting the CDC guidelines," he said.
"We've just got to be innovative," Stitt said, "and we're hearing that all over from all of the different business communities."
Governors in New York and California have issued orders mandating the closure of most businesses. Stitt said Oklahoma's situation does not compare to those states today.
So far, there are 66 cases of coronavirus in Oklahoma, although officials expect that number to increase, partly as a result of increased testing. Officials said Oklahoma's testing ability will increase 10-fold in the next week. Even so, officials said circumstances in Oklahoma are expected to remain very different from those seen in some other states.
"Let's be clear that our fact pattern is different in our state than it is in New York City, or it is in Los Angeles or Chicago," Stitt said. "And we're hearing this stuff on the news and sometimes reacting to it. We have the epidemiologists who are focused on telling us when our surge will be. We're modeling those factors. There may be a time that we have to do other things. That time is not right now."
Oklahoma Secretary of Health and Mental Health Jerome Loughridge said most cases of COVID-19 in Oklahoma have occurred among people ages 18 to 49. The virus is most severe for those over age 60.
"The data that we see that derives specifically within our borders differs even from that which we've seen in New York, California, and elsewhere," Loughridge said.
Some individuals have called for Stitt to order most businesses to close and have the government control how others operate, including grocery stores. Chad Richison, CEO of Paycom, is among those who have advocated such actions.
According to Forbes, Richison's net worth is $1.6 billion, landing him among the 400 richest individuals in the country.
If the actions endorsed by Richison and others like him are enacted, those most likely to lose their jobs have incomes far from that stratosphere. Restaurant servers have been among those hardest hit so far. A Wall Street Journal survey of 34 economists indicated up to five million jobs could be lost nationwide this year. Rajeev Dhawan, director of the Economic Forecasting Center at Georgia State University, told the Journal that he expects the job losses will be heavily concentrated among restaurants, hotels, airlines, and real estate and that most laid-off workers will be individuals with below-average earnings.
Stitt noted there has already been a "huge spike" in unemployment claims in Oklahoma.
"My heart is breaking for the Oklahomans who are struggling, who have lost their jobs due to no fault of their own through this crisis," Stitt said.
The governor noted Oklahomans will continue to need a wide range of goods and services, and that most businesses have taken action to reduce the chance of spreading coronavirus. He said businesses must be allowed to innovate even as efforts to restrict the spread of coronavirus continue.
"How do we do those things safely while we keep business going and employees there?" Stitt said. "Because if this is going to be a drawn-out process, this may be the new normal for a while."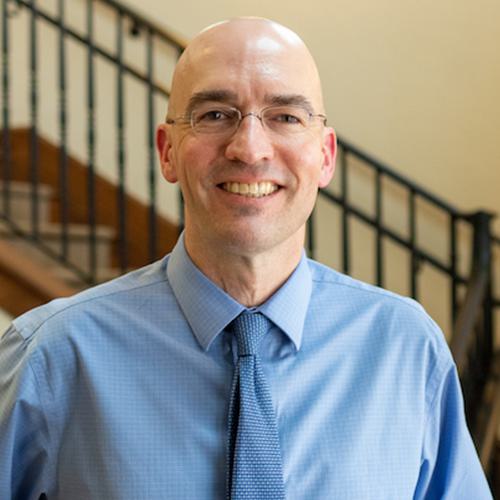 Ray Carter
Director, Center for Independent Journalism
Ray Carter is the director of OCPA's Center for Independent Journalism. He has two decades of experience in journalism and communications. He previously served as senior Capitol reporter for The Journal Record, media director for the Oklahoma House of Representatives, and chief editorial writer at The Oklahoman. As a reporter for The Journal Record, Carter received 12 Carl Rogan Awards in four years—including awards for investigative reporting, general news reporting, feature writing, spot news reporting, business reporting, and sports reporting. While at The Oklahoman, he was the recipient of several awards, including first place in the editorial writing category of the Associated Press/Oklahoma News Executives Carl Rogan Memorial News Excellence Competition for an editorial on the history of racism in the Oklahoma legislature.