Good Government
Ray Carter | February 6, 2023
Stitt calls for tax cuts, school choice
Ray Carter
In his fifth State of the State speech, Gov. Kevin Stitt urged lawmakers to enact $655.7 million in tax cuts and provide school choice to all Oklahomans.
"Let's listen to the people we serve," Stitt said. "Because Oklahomans sent a clear message last November when they overwhelmingly voted for our vision: to shrink the size of government, to cut taxes, and to let the free market flourish. We need to return excess revenue to the people, not grow government."
In his proposed budget, Stitt noted the state now has nearly $4 billion in reserves, and recurring state revenues available for appropriation are expected to grow from $9.6 billion last year to $11.4 billion this year. Stitt called for using part of the growth funding to reduce the state's personal income tax, eliminate the state sales tax on groceries, and reduce the state's corporate income tax.
Stitt's proposal would cut the state's personal income tax, which has a current top rate of 4.75 percent, to 3.99 percent. That would save Oklahomans $260.9 million annually and give Oklahoma a lower top income tax rate than all but 14 states.
Nine states have no personal income tax (Alaska, Florida, New Hampshire, Nevada, South Dakota, Tennessee, Texas, Washington, and Wyoming). If Oklahoma's top rate is reduced to 3.99 percent as proposed by Stitt, that will be a lower tax rate than what was imposed in most of the remaining 41 states in 2022, aside from Indiana (3.23 percent), North Dakota (2.9 percent), Ohio (3.99 percent), and Pennsylvania (3.07 percent).
However, several states enacted tax cuts last year that either took effect in 2023 or are gradually reducing the rate to a lower level than Stitt's proposed Oklahoma rate of 3.99 percent. And officials in other states are pushing for similar reductions or full elimination of the personal income tax.
Arizona recently reduced its income tax rate to 2.5 percent, which took effect at the start of 2023. In Iowa, the top rate is scheduled to fall to 3.9 percent by 2026. In North Carolina, the state personal income tax rate is scheduled to drop to 3.99 percent by 2026. And Arkansas Gov. Sarah Huckabee Sanders has called for putting that state on the path to elimination of the personal income tax.
"We have accumulated a $4 billion savings account. And we're going into this session with a $1.8 billion surplus," Stitt said. "With our fiscal discipline, economic growth, and our record savings, let's make a significant statement that Oklahoma is here to stay on the national stage. The time is now. We need to keep the momentum. Let's cut taxes."
That statement drew a standing ovation from Republican lawmakers, who hold supermajorities in both the Oklahoma House of Representatives and the Oklahoma Senate.
Stitt also proposed eliminating the state's 4.5 percent sales tax on groceries, which would save Oklahomans $351.1 million annually. He also called for reducing the state's corporate income-tax rate by three-quarters of a point, which will generate $43.7 million in savings for entities subject to the tax.
While Stitt tacitly noted the link between lower taxes and stronger economic growth, he also argued for tax cuts as a way to partially offset the economic hardship facing many families today.
"When our economy is booming everyone wins. Your personal income goes up, opportunities expand, and the entire tax base grows," Stitt said. "But we also must remember there are families still struggling to keep up with record inflation. Before the pandemic, a gallon of milk cost $2.90. Today, it's $4.21. A dozen eggs were about $1.50. Today, they're over $5.50. We can provide families with immediate relief at the store and with bigger paychecks."
Grover Norquist, president of Americans for Tax Reform, praised Stitt's tax-cut plan.
"Governor Stitt gets it, the state is taking in too much money, and those tax dollars belong back in the pockets of hard-working Oklahomans," Norquist said. "Putting Oklahoma on the path to reduce, flatten, and eliminate its income tax is the right thing to do, and the smart thing for Oklahoma's future. The permanent flat-tax reform Governor Stitt is calling for will help Oklahoma families and businesses grow, instead of the government."
Norquist noted at least 10 states are considering income-tax cuts this year, and that more than 20 state income-tax cuts have been enacted since 2020.
'More Options for Kids'
The spending increases proposed by Stitt in his budget include a significant amount devoted to education with K-12 spending proposed to increase by $382.6 million. That figure includes $130 million to make Education Savings Accounts (ESAs) available to all Oklahomans. ESAs would allow families to use tax funds to pay for private school tuition and other services with the money following the child to any school or provider.
Stitt and Superintendent of Public Instruction Ryan Walters both easily won election last fall campaigning in support of school choice programs like ESAs, prevailing over Democratic opponents who made opposition to school choice a major plank of their losing campaigns.
"Parents spoke loud and clear at the ballot box last November in support of our vision to create more options for kids," Stitt said. "We know not every student learns the same way. Every child deserves a quality education that fits their unique needs, regardless of economic status, or background. Let's fund students, not systems. Let's create more schools, not fewer schools."
Stitt said the ESA program, by giving parents more education choices for their children, will ultimately improve academic outcomes and boost the state as a whole.
"Providing more options for students leads to better outcomes," Stitt said. "Oklahoma cannot afford to be left behind. Because our greatest asset isn't our oil and gas. It's not our football teams. It's not our aerospace and defense (industry). It's our kids."
Last year, Arizona approved a statewide ESA program, similar to one in West Virginia. This year, Iowa and Utah have also enacted broad-based ESA-style programs.
Stitt noted that school choice is especially vital for children in a low-performing public school whose families currently have few options due to economic status.
"For all those parents in Oklahoma whose child is stuck in a failing school—we're fighting for you!" Stitt said.
The American Federation for Children–Oklahoma, which advocates for increased educational opportunity, praised Stitt for his advocacy of ESAs.
"ESAs will free kids from schools that don't serve their needs and equalize opportunity for all Oklahoma students, no matter their ZIP code or economic circumstance," a tweet from the American Federation for Children–Oklahoma stated. "All Oklahoma kids deserve a quality education and a school that meets their unique needs."
Former Florida Gov. Jeb Bush, who championed education reform and school choice during his tenure, fueling significant improvement in academic outcomes in that state, also praised Stitt.
"Oklahoma continues to deliver education innovation to families under @GovStitt's leadership," Bush tweeted. "Today's State of the State further defines the Sooner State's commitment to #DriveExcellenceinEducation."
Stitt also called for devoting $100 million to a reading initiative, echoing proposals recently unveiled by State Superintendent Walters and Senate Republican leaders. Oklahoma's outcomes on reading fell significantly throughout the two-term tenure of prior State Superintendent of Public Instruction Joy Hofmeister.
In 2015, Oklahoma's fourth-grade reading scores on National Assessment of Education Progress (NAEP) tests were above the national average, but on the most recent round of NAEP testing only three states had lower scores.
The decline in Oklahoma's NAEP reading scores indicates that fourth-grade students in 2022 had nearly one-and-a-half years less learning than their counterparts in 2015.
Stitt also wants to devote $100 million to a new Innovative School Fund that can be used to cover the start-up costs of new schools in the state, and called for devoting $50 million to performance-based pay raises for Oklahoma teachers.
"These strategic initiatives will bring Oklahoma's education system out of the bottom and into the Top Ten," Stitt said.
Democrats panned Stitt's proposals, called for depleting state savings to boost spending, and described the governor's proposal to boost education spending as defunding.
Senate Democratic Leader Kay Floyd of Oklahoma City, speaking on behalf of her caucus, declared Stitt's address a "partisan and highly divisive speech."
"Rather than siphoning taxpayer dollars into a voucher scheme that will defund schools, we are calling on our colleagues to put the $4 billion in savings they are so proud of to good use addressing real problems like COVID learning loss and employment shortages in education and healthcare," Floyd said.
While Democrats have long decried Stitt's focus on building up state savings, a recent report by the Oklahoma Legislative Office of Fiscal Transparency (LOFT) found that $4 billion in reserves was needed to "weather a major recession." Stitt's budget would maintain those reserves while cutting taxes and boosting education funding.
Failure to restrain government-spending growth or boost state savings caused financial chaos during the final years of former Gov. Mary Fallin's second term. Policymakers were unprepared for an oil bust that reduced state revenue, and ultimately hiked taxes at a time when many Oklahoma families and businesses were already struggling. Stitt was elected in 2018 due in part to his promise to bring better financial management to state government.
Katherine Bishop, president of the Oklahoma Education Association, the state's largest teachers' union, declared that Stitt's goal of providing every child a quality education regardless of economic status "is not possible" due to what she described as insufficient per-pupil spending in public schools. Oklahoma spends $12,315 per pupil, more than tuition at most private schools, based on the state student count and revenue reports.
Like Democratic lawmakers, Bishop appeared to suggest drawing down state savings.
"With $3.8 billion in reserves, more savings than in our state's history, it is time to invest in the largest workforce in the state, our educational staff, and the future of our students," Bishop said.
Unlike their Democratic counterparts, Republican legislative leaders largely praised Stitt.
House Speaker Charles McCall, R-Atoka, said the governor "laid out an ambitious plan for Oklahoma" that aligned with many priorities of the House Republican caucus.
"Parents have the right to have a say in their child's educational journey, students should have every opportunity to succeed and our teachers need the support necessary to excel in the classroom," McCall said. "The House will continue to make sure any education policy passed works well in all parts of our state."
He also said House Republicans are "committed to getting meaningful inflation relief through the legislative process and to the governor's desk."
Oklahoma Senate President Pro Tem Greg Treat, R-Oklahoma City, similarly said Stitt's agenda aligns with that of Senate Republicans.
"The governor outlined numerous priorities that will continue our state's positive momentum," Treat said. "His clear vision and attainable results are focused on making Oklahoma the best place possible for everyone to succeed, while improving our economy and standing in the global market. Improving public education outcomes, tax reform, and workforce development are all high priorities for Senate Republicans this year. We look forward to working with the governor on these important areas and more."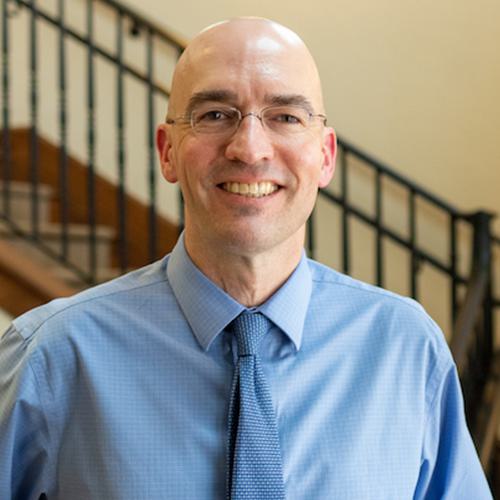 Ray Carter
Director, Center for Independent Journalism
Ray Carter is the director of OCPA's Center for Independent Journalism. He has two decades of experience in journalism and communications. He previously served as senior Capitol reporter for The Journal Record, media director for the Oklahoma House of Representatives, and chief editorial writer at The Oklahoman. As a reporter for The Journal Record, Carter received 12 Carl Rogan Awards in four years—including awards for investigative reporting, general news reporting, feature writing, spot news reporting, business reporting, and sports reporting. While at The Oklahoman, he was the recipient of several awards, including first place in the editorial writing category of the Associated Press/Oklahoma News Executives Carl Rogan Memorial News Excellence Competition for an editorial on the history of racism in the Oklahoma legislature.