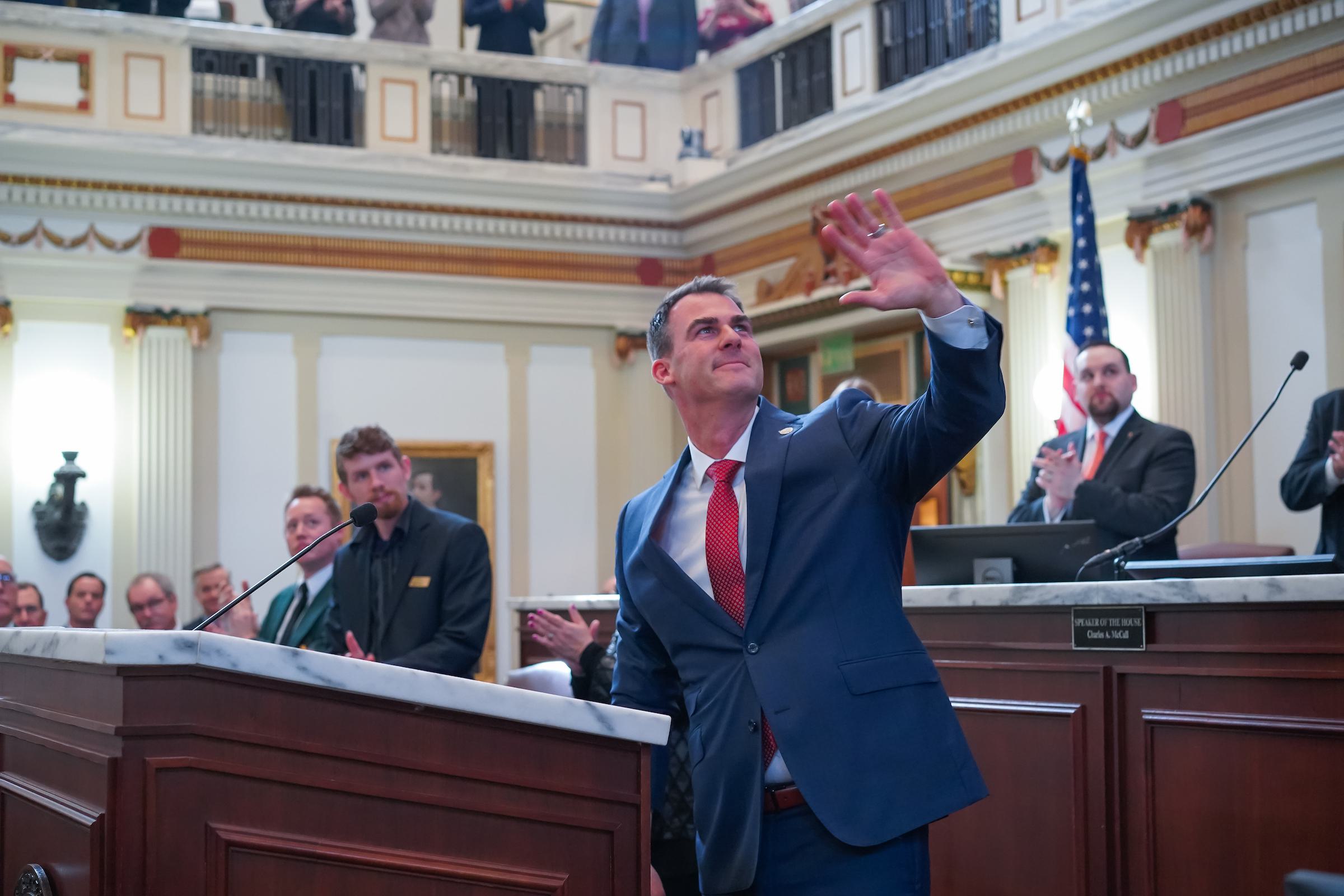 Budget & Tax
Ray Carter | February 4, 2020
Stitt emphasizes government restraint—with one big exception
Ray Carter
In his second State of the State address, Gov. Kevin Stitt mostly urged fiscal restraint, calling for increased state savings and agency consolidation, but he also promoted a tax/fee increase to fund a major expansion of welfare through Medicaid.
"Some will cry that consolidation is disruptive," Stitt said. "And let me be clear—it will be for political insiders and those that find comfort in big bureaucracy. But it is what we need to do to improve decision-making, deliver better accountability, and target dollars directly towards helping our citizens instead of paying for administrative bloat."
Stitt noted Oklahoma ranks 28th among states in population but 9th in the number of state agencies.
"This is unacceptable," he said. "There is no value to having more agencies than other states; it has not solved our bottom-ten rankings in critical categories."
He urged the Legislature to combine much of the Pardon and Parole Board with the Department of Corrections. The governor said efforts are also underway to combine "all back office and common functions into one shared service entity" for the Oklahoma Department of Transportation and the Oklahoma Turnpike Authority. And he called on lawmakers to merge the Office of Emergency Management and Homeland Security.
Stitt also noted that Oklahoma has 10 different state agencies that handle Medicaid funding and 18 state entities that license health care facilities and providers.
"You cannot convince me that operating that many bureaucracies is an efficient way of doing business," Stitt said. "And it has to change."
He urged lawmakers to "begin the process of creating one central health care agency" by integrating the functions of the State Department of Health, the Oklahoma Health Care Authority (OHCA), the Department of Mental Health and Substance Abuse Services, and others, as well as all state licensing boards that deal with health.
Senate leadership voiced support for the general concept of agency consolidation.
"I was especially excited to hear the governor talk about consolidation of agencies," said Senate Majority Floor Leader Kim David, R-Porter. "Last year we took a lot of strides forward in giving the executive branch control of our state agencies so that the executive branch could truly run government. This kind of folds in with that, in doing away with a lot of redundancy, a lot of agencies doing the same work and yet never communicating with each other. I think it's really important that if we can do that consolidation, we'll get healthier outcomes, our roads will be better, and Oklahoma will save a lot of money doing it."
But Democrats were less enthused.
"I've been here seven years, and I think governors come in and they want to streamline government, which I think is a noble cause and I think we need to do it—when it needs to be done," said Senate Democratic Leader Kay Floyd of Oklahoma City. "But if we are going to consolidate agencies, then we need to take a very, very close look at that, especially if we are going to consolidate medical agencies. It's an incredibly complex issue. Just because an agency has medical or health care or something like that in the title of the agency doesn't mean that they all serve the same purpose."
In addition to consolidation, Stitt continued his focus on boosting state savings to ensure government stability during future economic downturns. He urged lawmakers to support legislation that would allow Oklahoma voters to increase the constitutional cap on the state's "rainy day" fund to 30 percent, which would allow the fund to hold up to $2 billion in savings.
He also called for setting an additional $100 million aside for savings this year.
In a separate briefing, Mike Mazzei, Stitt's secretary of budget, said the ability to boost state savings is crucial to long-term stability.
"We're very pleased with the current $1 billion amount that's set aside in savings, but that's not even two months' worth of expenses," Mazzei said. "And when you run a big, $20 billion operation—whether it's a government or a business—most of us in the business world would say you have to have at least three months' worth of expenses to avoid drastic cuts when the inevitable down cycle hits."'
But Democratic lawmakers balked at that request.
"When the governor talks about taking another $100 million and putting it in a savings account, I have concerns about that," Floyd said. "My caucus argued against putting $200 million in a savings account last session, and we're going to argue about sending another $100 million. We just have too many needs that have been left unmet by not spending money that we actually have in the bank."
Stitt also endorsed a major reform of the state workforce by putting Oklahoma government on the path to having a majority of state workers classified as "at will" employees, as are most private-sector workers.
It's estimated about 65 percent of Oklahoma government employees are in classified positions today under Oklahoma's Merit Protection System. Those employees cannot be fired or promoted without clearing many regulatory hurdles, and critics have long said the system hinders good workforce management.
"The state's current civil service program is broken," Stitt said. "High quality employees are forced into a system that doesn't maximize their professional growth and potential. Agency leaders have their hands tied in who they can hire and promote due to outdated restrictions."
Moving forward, Stitt said all new hires in state government should be unclassified ("at will") positions. Via attrition, he said that would result in the majority of the state's workforce being unclassified "in the next five years."
Stitt said government workers' whistle-blower protections and due-process rights could be protected without using the state's Merit Protection System.
The Oklahoma Public Employees Association (OPEA) quickly came out against that plan. On the association's Twitter feed, OPEA officials declared, "Unclassifying state employees is a nonstarter," and added, "Do we want nursing home inspectors and others to be 'at will'? OPEA will fight any merit reforms that excludes independent due process for state employees."
State workers and members of teachers' unions have also called for an increase in retirement benefits—even if that involves raiding pension assets to cover the costs. That could be another area of potential conflict with the governor, who did not include a "cost of living adjustment" (COLA) in his budget plan.
In a statement, Alicia Priest, president of the Oklahoma Education Association, attacked Stitt for not calling for significant spending increases in a host of areas, despite the fact that appropriation revenue increased by only $9 million total this year compared to last year.
"There was no call for more money for the classroom, no call for a cost-of-living adjustment for our retirees and no call for teacher or support professional pay raises," Priest said.
(The governor's budget plan does increase school appropriations to ensure teacher pay raises approved last year are fully funded.)
Mazzei said the governor understands state retirees' desire for a cost-of-living adjustment, but suggested the governor is not supportive of measures that don't take into account pension system stability.
"There's a lot of different ways that could happen," Mazzei said. "A four-percent, across-the-board COLA for everyone in the system would cost $1 billion. That's probably not the most fair way to the taxpayers to take advantage of some of the progress in the pension system."
While most state pension plans are now on sounder footing, Mazzei noted that the teachers' retirement system is not in that group. The teachers' retirement system is just 72.4 percent funded and has $6.5 billion in unfunded liabilities.
Mazzei said proposals that reduce the cost of a COLA to the $250 million to $500 million range, and provide different COLA increases to each system based on funding status, would be more acceptable.
"There's a wrong way to do this, and then there's probably a smart, more analytical way to do this," Mazzei said. "And we're looking forward to those discussions."
In the area of education Stitt called for review of the state school funding formula, making it easier for teachers who move to Oklahoma from another state to obtain certification, and raising the cap on the Oklahoma Equal Opportunity Education Scholarship program to "make sure all students at all schools have access to an innovative, enriching curriculum, regardless of ZIP code."
He also urged lawmakers to protect school funding by setting money aside so education will not be harmed if tribal litigation over state gaming compacts causes casino revenues to become temporarily unavailable.
Stitt also said he is signing an executive order to reduce state regulations by 25 percent in the next three years by repealing two regulations for every new regulation proposed.
In calling for spending restraint, Stitt noted Oklahoma's economy and the state budget continue to be "built on the backs of the hardworking men and women in the oil and natural gas industry," and noted that last year there were "60 percent more drilling rigs" operating in Oklahoma. Many economic indicators suggest a slowdown in Oklahoma's economy will occur this year, due in part to lower oil and gas prices, and state revenue growth is at a standstill or declining.
While much of the governor's speech focused on fiscal restraint and efficiency, a notable exception was his call to expand Medicaid under the Affordable Care Act, better known as "Obamacare."
Stitt called for expanding the program under a waiver offered by the Trump administration that would allow the state to impose modest premiums and work requirements for some participants.
According to prior estimates, Medicaid expansion would include up to 628,000 able-bodied Oklahomans and could result in as much as 40 percent of the state population becoming Medicaid-eligible. Based on current Medicaid expenses, that translates into an increased state cost of as much as $374 million annually.
In his speech, Stitt said the program would include just 180,000 Oklahomans, an indication that administration officials' fiscal estimates are based on the assumption that the vast majority of Oklahoma's expansion population will choose not to enroll in the program.
Even if just 180,000 of the potential 628,000 Oklahomans enroll, however, Stitt administration officials estimate state taxpayers will need to provide $150 million in new funding.
Stitt told lawmakers that "Washington needs to see support from the Oklahoma state legislature to feel confident that this plan is on solid financial standing," and called on them to increase the Supplemental Hospital Offset Payment Program (SHOPP) fee, a de facto tax on hospitals and medical providers. The current rate is 2.8 percent. Stitt wants to raise the rate to 4 percent.
The hospital fee/tax was not included in Stitt's budget plan for 2021, nor were any costs associated with Medicaid expansion. In addition to Stitt's Medicaid-expansion plan, a separate expansion proposal will go before voters later this year. Whether Stitt's plan or the ballot measure passes, Mazzei said neither program is likely to be fully implemented before 2022 and the upfront costs of implementation would not be reflected in state budgets until the 2021 legislative session is underway.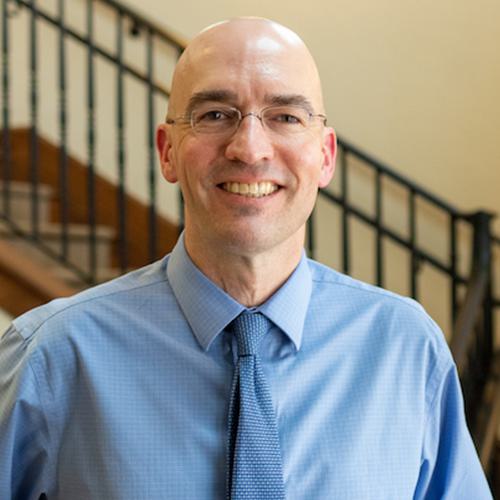 Ray Carter
Director, Center for Independent Journalism
Ray Carter is the director of OCPA's Center for Independent Journalism. He has two decades of experience in journalism and communications. He previously served as senior Capitol reporter for The Journal Record, media director for the Oklahoma House of Representatives, and chief editorial writer at The Oklahoman. As a reporter for The Journal Record, Carter received 12 Carl Rogan Awards in four years—including awards for investigative reporting, general news reporting, feature writing, spot news reporting, business reporting, and sports reporting. While at The Oklahoman, he was the recipient of several awards, including first place in the editorial writing category of the Associated Press/Oklahoma News Executives Carl Rogan Memorial News Excellence Competition for an editorial on the history of racism in the Oklahoma legislature.