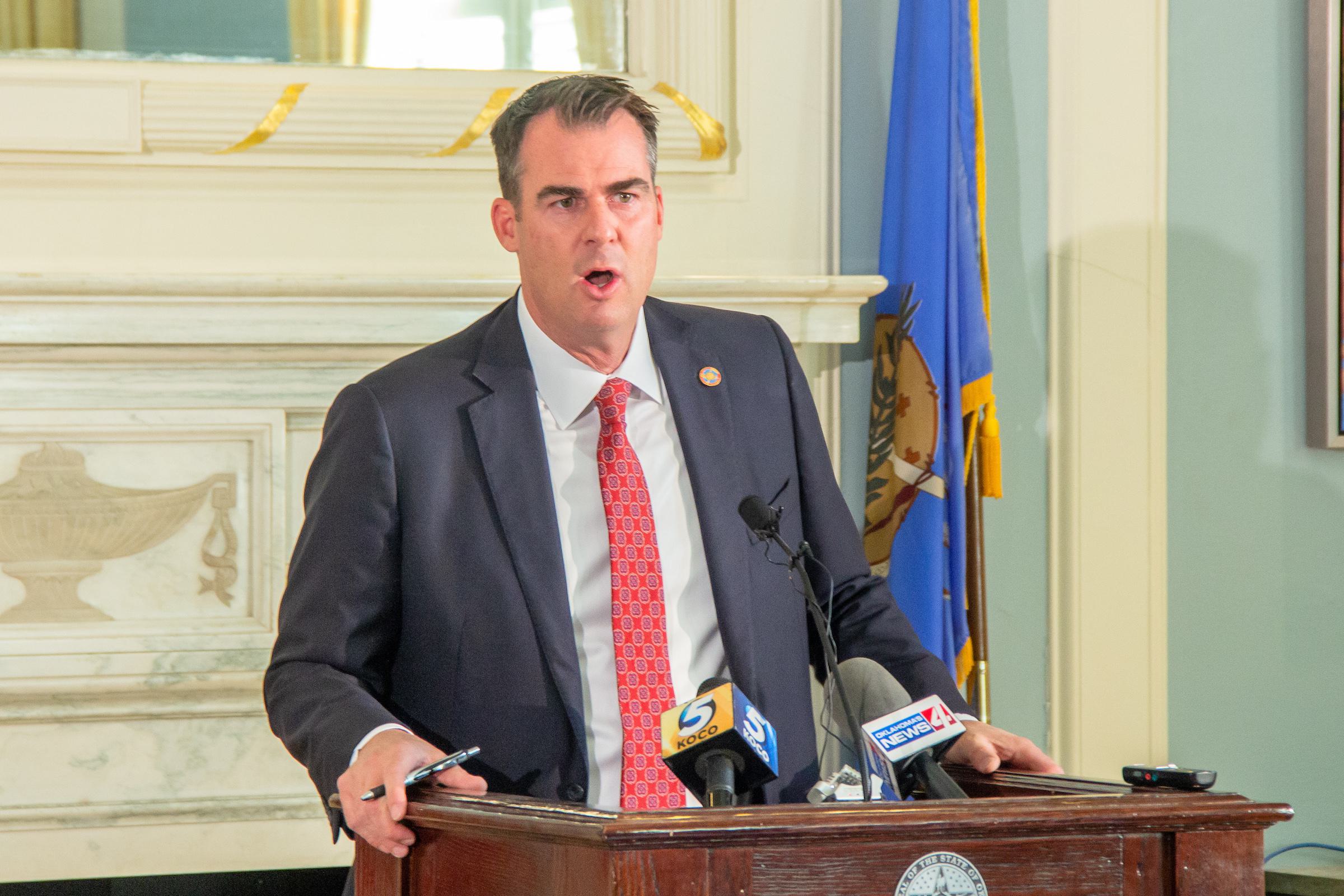 Education
Ray Carter | July 30, 2020
Stitt endorses in-person schooling
Ray Carter
Voicing strong support for in-person instruction in Oklahoma schools, Gov. Kevin Stitt announced Thursday that federal funds will pay the cost of masks, shields, gloves, and gowns at districts across the state, and that all teachers will be tested for COVID-19 each month.
"Schools are an essential part of our society. It is critically important that they operate safely and effectively for all students," Stitt said. "Our kids cannot miss another year of school."
The personal protective equipment will be purchased with $10 million in emergency federal funding provided to the state for COVID-19 response. Officials plan to purchase 1.7 million reusable masks, 42,000 clear face shields, 1.2 million disposable gloves, and 1.2 million disposable gowns for use in schools. Those supplies will be distributed to schools by August 14.
In addition, Stitt said the state Department of Health and Oklahoma State Department of Education are working on a plan to provide optional testing of all Oklahoma teachers for COVID-19 each month.
The governor said science supports in-person instruction, pointing to the American Academy of Pediatrics' conclusion that COVID-19 "appears to behave differently in children and adolescents than other common respiratory viruses, such as influenza, on which much of the current guidance regarding school closures is based."
Those doctors have also found "that children and adolescents are less likely to be symptomatic and less likely to have severe disease" when they have COVID-19 and "may be less likely to become infected and to spread infection."
The American Academy of Pediatrics "strongly advocates that all policy considerations for the coming school year should start with a goal of having students physically present in school."
Stitt noted just 1 percent of COVID-19 cases in Oklahoma have occurred in individuals between ages of five and 17. Less than 300 individuals in that age group who contracted COVID-19 have required hospitalization, with one child dying after contracting the virus.
"We certainly don't want to minimize any deaths at all, but it's important to point out that two school-age children have died this year alone from the current flu season and 245 children have been hospitalized from the flu," Stitt said.
The governor said distance learning should be an option for children with underlying health conditions that put them at higher risk if they contract COVID-19, but that most children should be physically present in the classroom.
"Keeping schools closed for all students has many harmful consequences," Stitt said.
Justin Brown, director of the Oklahoma Department of Human Services, said evidence is growing that last spring's school closures have contributed to "potentially unprecedented levels of trauma" for many Oklahoma children and families.
He said the number of children experiencing hunger in Oklahoma has increased from one in four to one in three.
Even more disturbing, he said many cases of child abuse have likely gone unnoticed because of school closures.
"Teachers play a critical role in recognizing abuse and it's clear that our kids are not being seen by their teachers," Brown said. "In April of 2019, educators reported 767 cases of abuse and neglect to the Oklahoma Department of Human Services. In the same month of 2020, that number was 57. Hundreds of kids remain at home in unsafe conditions with nobody watching. I'm here today to raise the red flag that as public health decisions are made—and critical health decisions are made—there are also critical trade-offs that impact the most vulnerable in our communities, and many times those impacts are disproportionate to low-income and minority communities, and we believe they are generational and devastating."
Officials representing educators and parents attended Stitt's announcement and praised his support for in-person schooling.
"As a 26-year educator, I understand what it means and the value of having students in the classroom with a teacher in front of them," said Rep. Sherrie Conley, a Newcastle Republican who previously served as both a teacher and a school administrator. "There are other things that schools offer that are much more than just curriculum. Schools provide essential services. They're safe places where kids can feel loved, develop social and emotional skills, and are provided healthy meals that they may not get at home."
She noted studies of the "summer slide" show students lose 20 percent of school-year gains in reading and 27 percent of school-year gains in math during summer months when not in the classroom. By seventh grade, students lose 39 percent of school-year gains during summer break, she said.
"In the current circumstances, we know that many students have suffered even further learning losses when you add in the virtual ending to our school year of 2019-20," Conley said.
"Having the option to return to school in person is so important to us, because it allows us to give each of our students the education and support they deserve, regardless of their parents' income, access to technology, or family situation," said Max Thomas, superintendent of Dover Public Schools in Kingfisher County, which serves 170 students in grades pre-K through 12.
"Hundreds of kids remain at home in unsafe conditions with nobody watching. I'm here today to raise the red flag." —Oklahoma DHS director Justin Brown
While Dover will offer alternatives to in-person instruction, Thomas said educators in his district believe one method is superior.
"In Dover we offer three options and I can tell you the option that we recommend is on-site learning," Thomas said.
Like Conley, he noted the effects of the COVID slide on student learning.
"We have a lot to make up in our school systems this year," Thomas said. "In our reading and math it will slide and it slid greatly."
Philip Abode, executive director of Crossover Preparatory Academy, an all-male college-preparatory school in North Tulsa serving working-class minority students grades six through nine, said his school relies on "a strong student-leadership culture that thrives when our kids are together in community."
In addition, many students have few positive male role models outside of school, and many enter the school not on track to graduate college- or career-ready.
"We know that in person, our young men will learn faster," Abode said.
Conley said she was able to leave the classroom to care for her sons when they were young, but "many parents, Oklahoma families, do not have" that option due to economic circumstances.
Katy Newcomb, mother of a nine-year old boy, is among that group. When school closed last spring, Newcomb said she had to rely on family members to supervise her son while she worked.
"Had I not had the support of my mother and my sister during that time, it would have been very hard for me to sustain any kind of stability for him," Newcomb said. "I was working 9 a.m. to 8 p.m."
She said it "was a lot harder" for some of her friends who lacked family support and often had to forgo income.
"You can't leave your nine-year old at home alone," Newcomb said.
Stitt said schools that eliminate in-person instruction and provide only distance learning are not protecting children or teachers from potential exposure to COVID-19.
"Our kids have been playing youth sports, doing other activities throughout this entire summer," Stitt said. "And online instruction does not reduce the chance of exposure outside the classroom. If schools do not open in person, it is not feasible to think that students and teachers will stay home and will not come in contact with anyone else."

The National Education Association's state affiliate, the Oklahoma Education Association, has been among the most vocal opponents of in-person school. On July 23, the OEA declared on Twitter, "We want to work. We also want to stay alive." OEA President Alicia Priest responded to Stitt's PPE announcement with a statement claiming districts "have had an even more difficult time finding cleaning supplies" than PPE.
Priest's statement indicated the union remains opposed to in-person instruction.
"Many teachers and staff face an impossible choice: Put themselves and their families at risk or leave the work they love," Priest said.
A 2018 state report showed the average age of educators in Oklahoma schools at that time was 45 years, and noted that had been the average age since the 2012-2013 school year. The report noted the median age of Oklahoma teachers was also 45 years, meaning half of teachers were younger.
According to the Oklahoma Department of Health, 79 percent of Oklahomans who have tested positive for COVID-19 and subsequently died have been age 65 and older. People age 49 and younger represent just 4.67 percent of state deaths among the COVID-positive. The Oklahoma Department of Health also reports that "roughly 80% of cases report mild symptoms."
NOTE: This story has been updated since initial publication.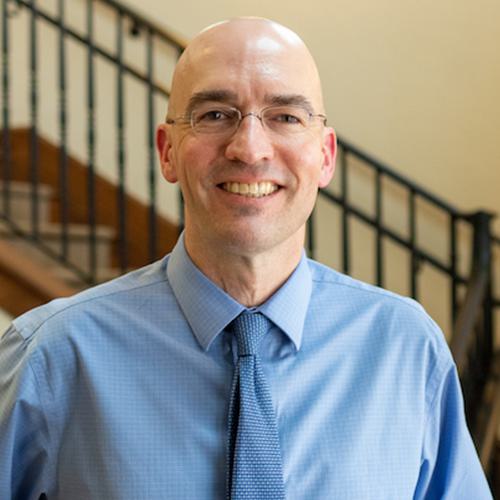 Ray Carter
Director, Center for Independent Journalism
Ray Carter is the director of OCPA's Center for Independent Journalism. He has two decades of experience in journalism and communications. He previously served as senior Capitol reporter for The Journal Record, media director for the Oklahoma House of Representatives, and chief editorial writer at The Oklahoman. As a reporter for The Journal Record, Carter received 12 Carl Rogan Awards in four years—including awards for investigative reporting, general news reporting, feature writing, spot news reporting, business reporting, and sports reporting. While at The Oklahoman, he was the recipient of several awards, including first place in the editorial writing category of the Associated Press/Oklahoma News Executives Carl Rogan Memorial News Excellence Competition for an editorial on the history of racism in the Oklahoma legislature.