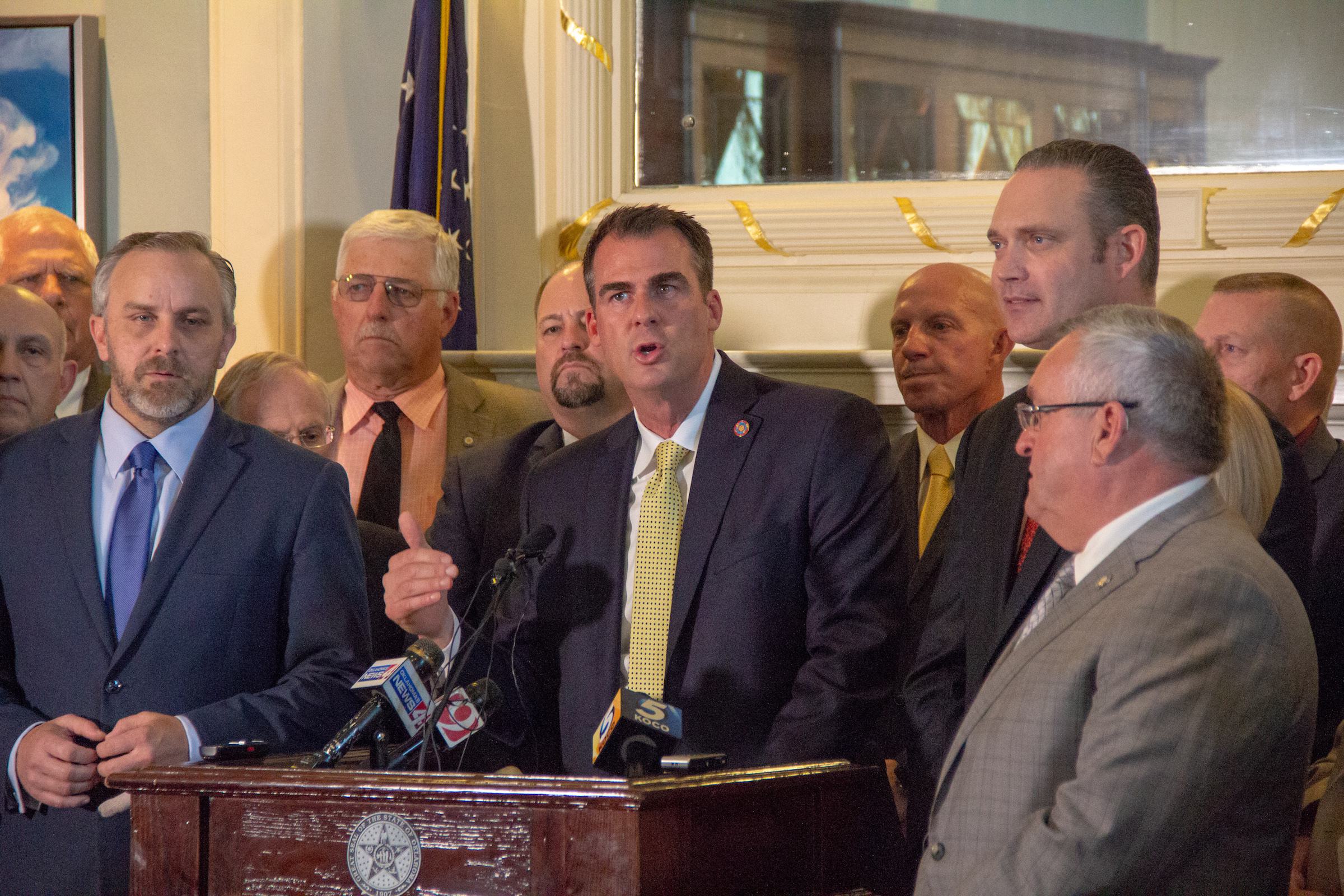 Budget & Tax , Education
Ray Carter | May 15, 2019
Stitt, legislative leaders announce budget agreement
Ray Carter
Gov. Kevin Stitt and legislative leaders announced Wednesday that they have reached a budget agreement that spends more than $8 billion for the first time in Oklahoma history and includes $157.7 million more for K-12 schools, but they struggled to identify any specific measurement of student outcomes they expect will improve as a result.
In announcing the agreement, Stitt stressed three main points.
"There will be no new taxes. We will put $200 million back in savings," Stitt said. "And we will increase the state's investment in core services by 5 percent."
Stitt and both legislative leaders touted education funding. The budget plan includes funding for an average teacher pay raise of $1,220 apiece, which will come on top of the average $6,100 teacher pay raise given last year. It also provides $74.3 million for general school funding and $5.5 million for literacy efforts.
"We're going to end up being number one for teacher pay in our region," Stitt said.
"This budget is strong on education," said Senate President Pro Tempore Greg Treat, R-Oklahoma City. "It gets more money into the classroom than we've been able to do in a long time."
"This has always been about the teacher shortage in the state of Oklahoma," said House Speaker Charles McCall, R-Atoka.
After last year's hike, average teacher pay in Oklahoma was near the top of the region. However, Oklahoma still trailed Texas and this month lawmakers in that state advanced legislation to boost Texas teacher pay by $5,000.
Last year's pay raise appeared to have little impact on the reported teacher shortage. Last fall, at the start of the current school year, a survey by the Oklahoma State School Boards Association found that 57 percent of superintendents said teacher hiring was more difficult, even after the $6,100 raise, and 35 percent said hiring remained just as challenging. State officials have since claimed last year's teacher pay raise resulted in a net increase of 1,100 educators statewide.
With the latest budget agreement, it is estimated lawmakers will have increased school spending by $638 million over a two-year period.
In 2018, standardized test scores in Oklahoma dropped in almost every grade and subject. When asked what measures of student academic achievement they expect to improve as the result of this year's budget agreement, the governor and legislative leaders offered no response and instead passed the question to State Superintendent of Public Instruction Joy Hofmeister.
"What you're hearing in this budget is a priority on the people who can make the difference for students, and we do expect to see that in our results in the spring assessments," Hofmeister said.
Despite getting much of what it sought, the Oklahoma Education Association, the state's largest teacher's union, was critical of the budget agreement.
Earlier this week, when Stitt and House leaders unveiled a proposal very similar to the final product, Oklahoma Education Association President Alicia Priest panned the plan.
"We had hoped for a line-item that included raises for education support professionals, many who earn barely above the minimum wage. They need fair pay today," Priest said. "Adding more money into savings is admirable, but hard-working Oklahomans are facing a very real wage crisis."
Priest responded similarly to Wednesday's announcement by saying the union was "disappointed that the teacher raises were not added to the State Minimum Salary schedule. That won't help us recruit new teachers, especially in smaller districts."
She also said it was "discouraging that the budget puts $200 million into savings when we could have made a bigger investment in our schools, our students and our future."
Earlier this week, Stitt and House leaders declared budget negotiations were at an impasse. Senate Republicans were pushing to spend $264 million total on all forms of education with $200 million going to K-12 schools, while the Stitt-House plan called for giving all state employees a pay raise. Senate Republicans supported a raise for correctional officers but not for other state workers.
The agreement announced Wednesday indicated the money the Senate sought to put into public schools instead went to provide an average raise of $1,300 per state government worker. That raise comes on top of raises of up to $2,000 per state employee given last year. Correctional officers will receive a bump of $2 an hour, which Stitt said will bring their pay "up to market."
The budget plan restores $30 million for county road projects that was diverted to other uses last year.
It also includes money for diversion programs and directs $20 million in direct appropriations to district attorney offices, replacing money currently generated through fines and fees. Stitt has said the fee-and-fine revenue should instead be deposited into the state's general revenue fund to reduce any incentive for prosecutors to levy excessive fines.
"This is going to take away any kind of perverse incentive that is going to contribute to debtor's prison," Stitt said.
Stitt and McCall both touted the increased savings generated through this year's agreement.
"For the first time in state history, we are setting back an additional savings account of $200 million without the law forcing it," Stitt said. "This is going to allow us, at the end of this year, to have $1 billion in our savings account."
"We will have a historic savings level in the state of Oklahoma," McCall said. "Not only a savings level, but a plan, a plan to remain solvent. A plan to build and prepare for the next downturn and contraction, because we know it's coming sometime. Hopefully not in my legislative tenure here at the Legislature, but someday it will. And it's very wise, prudent and smart to, in the years that we have significant surplus, to put some back and prepare for that. We would like the future Legislature to be in a better position to handle that than perhaps we found ourselves in a few years ago."
The $200 million in savings has drawn opposition not only from the OEA, but also from Democrats who argue the money should be spent. In a statement, House Democratic Leader Emily Virgin of Norman said, "This is what a budget looks like when you decide taxpayer money is better suited to sit in a bank than be invested back into state resources like our children, state employees, and middle and low-wage earners."
She said the budget agreement does not make "agencies, including the state department of education, whole."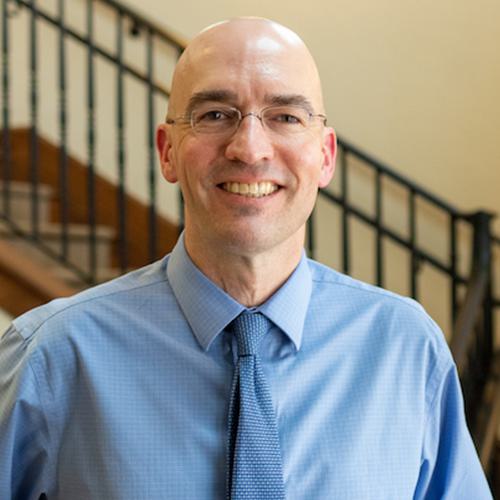 Ray Carter
Director, Center for Independent Journalism
Ray Carter is the director of OCPA's Center for Independent Journalism. He has two decades of experience in journalism and communications. He previously served as senior Capitol reporter for The Journal Record, media director for the Oklahoma House of Representatives, and chief editorial writer at The Oklahoman. As a reporter for The Journal Record, Carter received 12 Carl Rogan Awards in four years—including awards for investigative reporting, general news reporting, feature writing, spot news reporting, business reporting, and sports reporting. While at The Oklahoman, he was the recipient of several awards, including first place in the editorial writing category of the Associated Press/Oklahoma News Executives Carl Rogan Memorial News Excellence Competition for an editorial on the history of racism in the Oklahoma legislature.