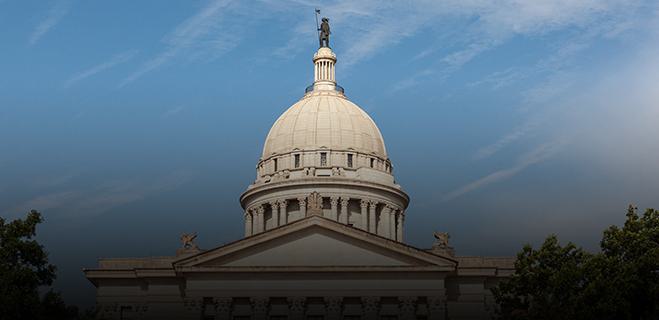 2018 legislative victories
Staff
This article was published in OCPA's Perspective magazine View Issue
Since 2015, $1.1 billion in annual tax increases and annual revenues have been raised. Even with demands from tax consumers taking up more bandwidth than usual this legislative session, key reforms and policies recommended by OCPA became law. Here is a summary of OCPA's policy victories during Oklahoma's 2018 legislative session.

Health Care: Medicaid Audits
OCPA's top reform, House Bill 1270, was signed by Gov. Mary Fallin earlier this year. The bill requires the Oklahoma Health Care Authority to verify eligibility for most of the state's Medicaid recipients. This was the first item in OCPA's 2018 Freedom Agenda. If fully and correctly implemented, this reform is estimated to save state taxpayers around $85 million per year.
Health Care: Medicaid Work Requirements
Gov. Fallin signed House Bill 2932 and Executive Order 2018-05. Both measures seek to add work requirements for able-bodied, working-age individuals who receive benefits through the state's Medicaid program. This will preserve the program for the truly needy and the most vulnerable.
Education: Funding Silos
The Legislature adopted Senate Joint Resolution 70, which will let Oklahomans vote to begin breaking down the funding silos in our state's public education system. If voters pass SJR 70 on the statewide ballot later this year, local voters and school boards will gain new flexibility with a portion of local school ad valorem funds. Money that would typically be available to school districts only for buildings and athletic facilities could also be used for teacher pay, textbooks, classroom supplies, or whatever a school district needs most. (This measure would not apply to bond funding.)
Education: Union Opt Outs
In an effort to empower teachers, Gov. Fallin signed Senate Bill 960 to require school districts to accept any written notice, including email, from an education employee who wants to opt out of a union. The district must process the opt out right away. Any union contract provision to the contrary is declared null and void, and a district that fails to honor an opt-out request within 30 days will have to pay a penalty to the employee.
Criminal Justice Reforms
Gov. Fallin signed the following reform bills:
Defending Taxpayers: Capital Gains and Income Tax Increases
In the face of massive, organized efforts to raise personal income tax rates and to impose a capital gains tax, OCPA educated the public and lawmakers about how penalizing work and investment is terrible policy. In the end, Oklahoma lawmakers resisted the demands from tax consumers to raise income tax rates or to impose a capital gains tax. These efforts protected more than 1 million Oklahomans from new capital gains taxes or personal income tax rate increases.
Defending Taxpayers: State Question 640
OCPA consistently shared the facts about revenue, including that tax increases have passed since the adoption of State Question 640. OCPA strongly cautioned against efforts to hurt SQ 640. It protects Oklahoma taxpayers by requiring a vote of the people on any tax increase that does not have three-fourths supermajority support in the state Legislature.
Progress on other reforms this legislative session
It often takes years for a good idea to become law, especially for major reforms. This legislative session, a number of OCPA's policy recommendations moved further down the tracks. Though they did not reach the finish line, we expect them to receive strong consideration again in 2019. These include:
more efforts to empower teachers by way of public-sector union reforms, such as allowing public school teachers to vote every few years on which union gets to represent them or not to keep the union active in their school district;
accelerating the end of wind-industry cronyism in Oklahoma;
reforming TSET and better utilizing future funds for higher taxpayer priorities;
cleaning up and making more accountable the leadership structures of major state agencies; and
opening the doors for each Oklahoma family to find the best educational path for their child — education choice remains one of OCPA's top priorities.