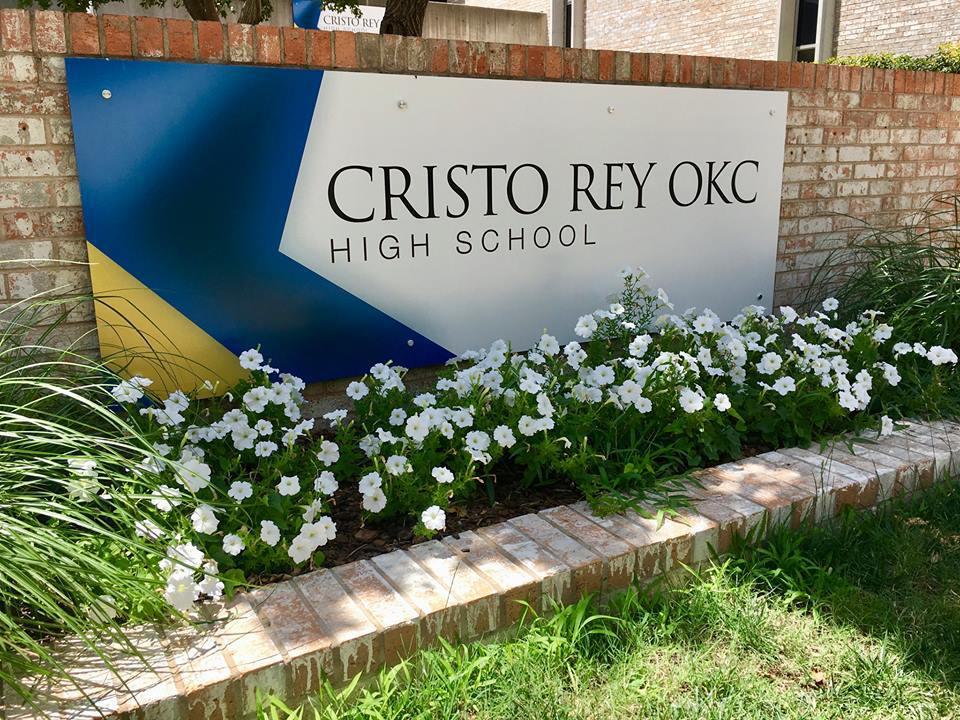 Education
Staci Elder Hensley | September 19, 2018
Cristo Rey showing inner-city students the path to success
Staci Elder Hensley
As equal parts Catholic high school, college preparatory academy, and a real-world workplace experience, Oklahoma City's newest private school—Cristo Rey Oklahoma City Catholic High School—offers an innovative, practical, and powerful approach to education. Opened in August of 2018, it's geared toward students from economically disadvantaged families and is designed to give them the knowledge, character, faith base, and work skills that will prepare them for success in college and in life. Students at the school receive scholarships made possible by state legislation adopted in 2011.
Cristo Rey students spend four days a week in class and the fifth in a tailored work-study program where they're placed in a professional environment with one of the school's multiple corporate partners. They receive a salary, just like regular employees, and the funds they earn help to defray a portion of their school tuition.

On the academic side, students attend regular high school classes that include rigorous college preparatory material, plus religious instruction. Academic assistance and counseling are available for every student at any time.

"It's a lot of work for them," said president and CEO Renee Porter. "We push them hard, but not farther than any student is capable of learning."
Cristo Rey opened its doors with 125 ninth-graders and will grow an additional grade each year, said principal Cody Yocom. By 2022, the school will house 500 students in grades nine through 12. It's currently housed on Oklahoma State University's Oklahoma City campus, 900 N. Portland Ave.
"When we were doing our first orientations, we noticed that no one would raise their hand to ask questions. In most inner-city schools, raising your hand or acting like you're interested in learning would get you bullied. At Cristo Rey, we promote the idea that it's good to learn and that we want you to learn." —Cristo Rey president Renee Porter
"We know there's a need for students to have great options here in the city," Yocom said. "We absolutely know we have to do something a little bit differently. This (school) allows us to provide education within a faith-based environment and to produce students who are ready in all areas."
"Our kids are special," he added. "We produce students who can fix problems. They have a real ability to transform our city."

"What we are doing here is creating a culture shift," Porter said. "We promote the idea that it's good to learn and that we want you to learn. When we were doing our first orientations, we noticed that no one would raise their hand to ask questions. In most inner-city schools, raising your hand or acting like you're interested in learning would get you bullied. Here our students learn to expect great things of themselves."

Classes at Cristo Rey are smaller than at other schools, and both the days and the school year are slightly longer. The student body mirrors that of the Oklahoma City Public Schools, Porter said, with a ratio of 70 percent Hispanic, 14 percent Caucasian, 10 percent African-American, 2.3 percent Asian, and slightly more than 3 percent who identify as multi-racial or "other." Most live reasonably close to the school, although some travel from as far away as Choctaw to attend.

Opportunity Scholarships Making It Happen
The Cristo Rey program would be out of reach of the school's students were it not for legislation passed in Oklahoma in 2011.
"Oklahoma's tax-credit scholarship law allows individuals or businesses to make financial gifts to Cristo Rey and other Catholic schools through the Catholic Schools Opportunity Scholarship Fund," Porter said. "The majority of the contribution can be directed to Cristo Rey to provide scholarships to our low-income students. One hundred percent of Cristo Rey students are recipients of donor dollars from the Catholic Schools Opportunity Scholarship Fund."

"The tax-credit scholarship is a terrific way to support the school and ensure more Oklahoma children get a high-quality education," she added.

One student who's benefitting is Luis Corona-Perez. His mother, Roxana Corona-Perez, said she's thrilled that the program has made it possible for her son to be part of Cristo Rey's first class, and that the school has already made a difference.

"We produce students who are ready in all areas and who can fix problems. They have a real ability to transform our city." —Cristo Rey principal Cody Yocom
"We are here because of the religious instruction and the work experience. To me that's the main thing, to know how to communicate with other adults and how to balance work life in the real world," she said. "Cristo Rey shows these young people what they need to do, how to do it, and then walks them step by step, which is also something we won't see in many high schools, at least not comprehensively. There is no other school in the city, possibly in our state, where you will get this kind of experience."
As the 33rd Cristo Rey high school in the United States, Oklahoma City's new learning establishment is one of the most recent to join the 22-year-old national network. The learning model combining intense college preparation with a professional work-study program was the brainchild of Catholic priest Father John Foley. He conceived the idea while serving the Chicago-area Latino community, Yocom said. Today, the resulting Cristo Rey Network has 35 member schools which are educating approximately 12,000 economically disadvantaged students across 22 states and the District of Columbia. Each school is autonomous but must adhere to the network's exacting standards.

Embraced by the Community

Partnering with Cristo Rey in the work-study program are approximately 35 Oklahoma City firms representing a range of industries. A few on the list are BancFirst, Boeing, the Chickasaw Nation, Cox Communications, and the Oklahoma Medical Research Foundation, plus several major law firms, real estate companies, and oil and gas companies.

Determining which student is placed at what business is a lengthy process conducted at the school before the semester begins, Porter said. Multiple days are spent analyzing each student's aptitude, skills, interests, and personality factors. Before placement, students also must attend a "Success Seminar," where they learn the soft skills that help them show and earn respect in a professional environment. These range from how to shake hands and tie a necktie properly to workplace etiquette and communicating in a business environment.

"I tell the kids it's the longest job interview they'll ever have," Porter joked.

For his work-study assignment, Luis Corona-Perez is performing data entry and creating spreadsheets for the real estate investment firm Humphreys Capital, where he said he has been warmly welcomed. "I've only worked for a few days, but I already feel like we're learning life skills," he said. "I like it."

Cristo Rey is definitely a busy place, and there's a positive energy in the air that connects staff to the students and to each other. There's a sense of purpose, of determination, and above all an awareness that everyone is reaching for lofty but attainable goals.

"When Luis goes off to college he will be the first in our family to attend and graduate, and he will set the standard for the rest of his younger siblings and cousins," Corona-Perez said. "This experience has been a blessing from God; that's the only way I can explain it."

Staci Elder Hensley
Independent Journalist
Former newspaper reporter Staci Elder Hensley is a freelance writer, editor, and columnist. A graduate of the University of Oklahoma, she is a former news coordinator for both the Oklahoma Tourism and Recreation Department and the University of Oklahoma Health Sciences Center. She served as a regular columnist for The Daily Oklahoman and Distinctly Oklahoma magazine, and her credits also include articles produced for multiple state and national publications, including The Journal Record, The New York Times, The Dallas Morning News, and others.