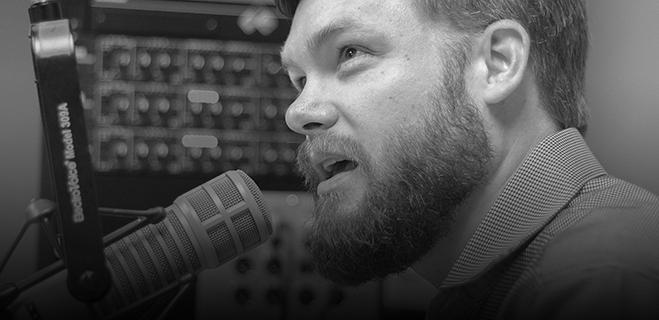 Mike Brake | December 11, 2017
Fresh air time
Mike Brake
When Trent England first began considering a career in public policy, he never envisioned himself as one, like Rush Limbaugh or Dennis Prager, who takes to the airwaves each day to enlighten a broad audience. But that's exactly what he does each morning from what is coming to be called the "OCPA studios" at NE 13 and Lincoln in Oklahoma City.

The Trent England show broadcasts on KZLS (AM 1640) from 7 to 9 a.m. each weekday, the coveted morning drive slot that traditionally draws the largest audiences. The Enid station's coverage extends well into the metro Oklahoma City market, and OCPA is already hoping to extend the show's reach.
England, OCPA's executive vice president and the Dr. David and Ann Brown Distinguished Fellow for the Advancement of Liberty, previously served in a similar role with the Freedom Foundation in Washington state and was a legal policy analyst at the Heritage Foundation. A graduate of Claremont McKenna College in government who earned a law degree from George Mason University, England said he was occasionally interviewed on news-talk radio programs early in his career, but gave no thought to the idea of becoming a host himself.
That changed in Washington.
"We had a supporter who owned a network of radio stations and he offered us airtime for a weekend show," he recalled. The show later morphed into a weekday program, with England increasingly learning to drive its agenda from behind the microphone.
"All of a sudden we controlled a half hour of airtime every day," he said. "That was the first time I had ever done anything like that."
OCPA's show on KZLS was launched in February of 2015, initially at mid-morning, but England noted that "people seemed to like it so it was moved to morning drive." The show for a time ran for three hours but now spans a more comfortable and manageable 120 minutes.
OCPA underwrites the minimal production costs and KZLS sells commercial time. The rest of the station's daily broadcast schedule consists of nationally syndicated news-talk programming.
England broadcasts from his office at OCPA, where he has an audio engineering board, microphones for himself and any in-studio guests, and a webcam which he occasionally uses to stream the show on Facebook. Each day's show is recorded and posted on the OCPA website as a podcast.
England estimates a daily audience of 10,000 to 20,000, with additional exposure to the daily podcasts.
So what is the show all about?
"Our mission is to disseminate information," he said. The show does not feature listener call-ins like Limbaugh and many other news-talk programs, although England said he would like to add that in the future. Most shows feature at least one guest who may come to the studio/office or be connected by telephone.
"I try to focus on issues and events in a way that most media do not, in more depth," he said. A show might discuss events in Europe for a time and then turn to activity at the Oklahoma Capitol. "I look for stories that are not covered enough, or are not covered in the right way."
He said he tries to dedicate the second hour of each Friday's show to discussion of a basic principle. England calls that segment "The Thoughtful Patriot."
Guests on the show have ranged from EPA Administrator Scott Pruitt and Sen. James Lankford and former Gov. Frank Keating to OCPA scholars and elected state officials. England often interviews public policy experts from the Heritage Foundation as well.
England said he spends an hour or more each day planning the following morning's show, scanning headlines to see what is current in the news and considering how to explore it in a deeper way. His shows are not scripted and may turn from one topic to another as the discussion with guests proceeds.
"I love radio partly because it doesn't have all the trappings of TV," he said. "Nobody can see you just talking to a microphone. You can get into things that are more substantive. It is more about information and education."
England said his dream guests would be past and present first ladies because "they could tell you so much about how the White House works."
He said while he welcomes elected officials, "I don't like to give airtime just to read talking points." He never endorses candidates or parties and tries to keep discussions above the traditional "he said/she said" back-and-forth of most broadcast news programs. The primary goal is depth.
That of course suggests a thoughtful audience in search of substance, which would be a blue chip target for radio advertisers. That's why England is hopeful that the show's reach can be expanded to other state radio outlets. While KZLS does reach into the Oklahoma City market, Tulsa and everything east of I-35, as well as most of western and southwestern Oklahoma, remain beyond the station's reach.
"We would love to get picked up on more radio stations in Oklahoma," England said. "We are actively seeking to syndicate the show." Other options include growing the listening audience via increasingly popular alternatives such as podcasting and/or Facebook Live.
Meanwhile, listeners can tune in each weekday to be educated, informed, challenged, and often entertained by what is Oklahoma's primary news-talk outlet with a decided free market and individual liberty slant.
Mike Brake is a journalist and writer who recently authored a centennial history of Putnam City Schools. He served as chief writer for Gov. Frank Keating and for Lt. Gov. and Congresswoman Mary Fallin, and has also served as an adjunct instructor at OSU-OKC.
Mike Brake
Independent Journalist
Mike Brake is a journalist and writer who recently authored a centennial history of Putnam City Schools. A former reporter at The Oklahoman (his coverage of the moon landing earned a front-page byline on July 21, 1969), he served as chief writer for Gov. Frank Keating and for Lt. Gov. and Congresswoman Mary Fallin. He has also served as an adjunct instructor at OSU-OKC, and currently serves as public information officer for Oklahoma County Commissioner Brian Maughan.